Giants
Jump to navigation
Jump to search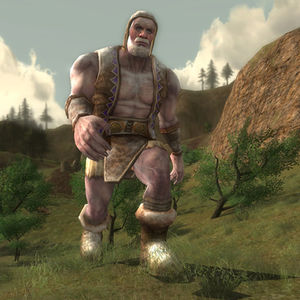 "Little is known about this secretive race that dwells high atop the mountain passes and peaks of Middle-earth. Some would say their existence is merely the stuff of tales for children, but there are those who have explored less-inhabited lands and have witnessed the power of the giants first-hand. If the tales are to be believed, it is said that the giants resemble Men in much the same way as Hobbits do, but where Hobbits are diminutive, the giants are enormous! Imagine a tribe of Men, each standing a full sixty feet in height, hurling boulders from mountaintop to mountaintop creating a thunder all their own. The power of these creatures instantly sends a chill down the spine of any who hear the tale!
The giants of Middle-earth, while rarely mentioned and never described in great detail in The Lord of the Rings books, are an important part of the design of The Lord of the Rings Online: Shadows of Angmar. Mysterious and powerful though they are indeed, the giants are also a rare mix of both terrifying monster and potential ally for the Free Peoples of Middle-earth. As of yet holding no alliance to either side in the War of the Ring, the on-going battle between the giants in the peaks of the Misty Mountains east of Rivendell is sure to attract the attention of the bravest of adventurers." [1]

Giants tend to live in their own areas. Known places throughout Middle-earth include: Giant Valley in the Trollshaws; Giant Halls in the Misty Mountains; Southern Emyn Uial in Evendim; a crevasse within West Forochel; and Mafân-mudun in Enedwaith. These creatures are known to be weak to tactical damage.
Signature
Elite
Elite Master
Nemesis
Arch-nemesis