User talk:Alexmackel
Welcome to LotRO-Wiki!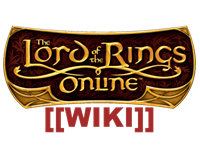 Hello, Alexmackel, and welcome to LotRO-Wiki, the Lord of the Rings Online Wiki!
Thank you for your contributions, and we heartily encourage you to continue contributing!
Some useful pointers:
We hope you enjoy editing here!
Take a moment to create a User page for yourself (click on "User Page" at the top left of this page).
Just a couple of lines to tell us about yourself and your interests. It's a good way to practice editing!

Please remember to sign your name on talk pages using four tildes (~~~~) as this will automatically produce your name and the date.

Item: Hogni's Spiked Helmet
I note that you have created the page Item:Hogni's Spiked Helmet with the text:
Hogni's Spiked Helmet is an item droped by Hogni Cleave-shank, a lvl 45 dwarf, that may be found patrolling about the southern gate of Gabilazan in the Misty Mountains. [28.0S, 0.8E]
1- Note that I changed the "Wikification" to use direct references to pages on this wiki, rather than using HTTP references. I also inserted the "ToolTip Coord" parameter which generates the pop-up map with a "swirlie" where the coordinates are located. 2- The Item itself, should have been created using the tool "Create Article - New Item" -- found in the left margin of every page or on the Help page. Using that tool assures that the Item contains the necessary information and creates a pop-up tool-tip when referenced in other articles.
Now when you mouse-over Item: Hogni's Spiked Helmet on this page, on the Class Quest Drops or Hogni Cleave-shank pages, it will generate a Tool-tip pop-up.
All you need to do now is to mouse over the item in your inventory and fill in the blanks to complete the Item page!