Thithrandi
Jump to navigation
Jump to search
This page is about the Expert Weaponcrafter in Thorin's Hall. For the quest giver in Redhorn Lodes, see Thithrand. 
| | |
| --- | --- |
| | Thithrandi |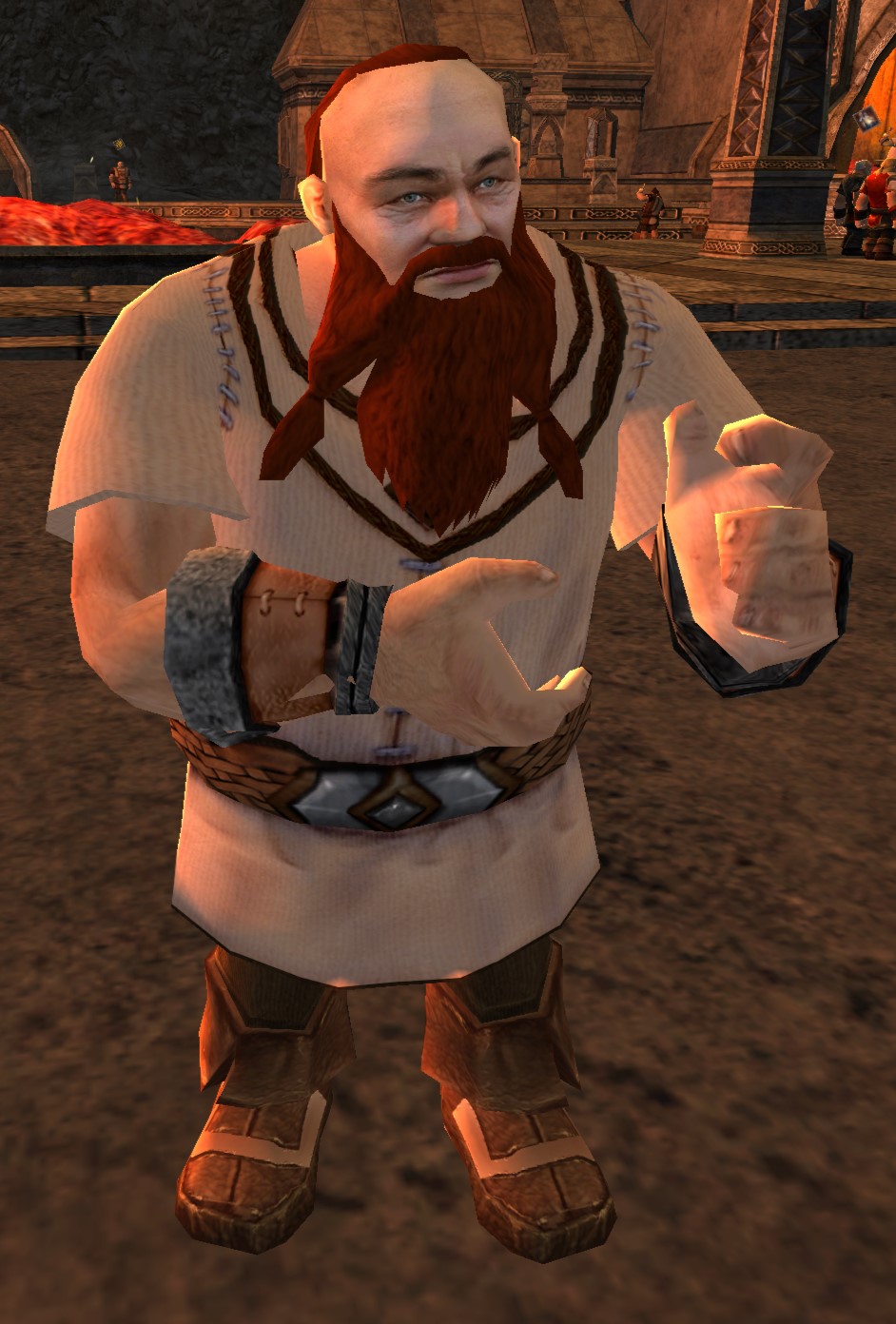 Description
Thithrandi in an Expert Weaponcrafter found at the Forging Hall within Thorin's Hall.
IMPORTANT He is currently missing his name. He is listed only as "Expert Weaponcrafter". And the image to the right is out of date. He is no longer standing on a tiled floor in front of kegs.
IMPORTANT His name has changed to Tithrandi. When you enter the Forging Hall, he is standing at the second forge on the left by Sindri.
Quest Involvement
Sells
Crafting Ingredients
Item
Cost
 

Ancient Steel Bolts

7  20  
 

Ancient Steel File

7  20  
 

Ancient Steel Nails

7  20  
 

Ancient Steel Sphere Mould

7  20  
 

Ancient Steel Spike Mould

7  20  
 

Blackened Steel Bolts

8  80  
 

Blackened Steel File

8  80  
 

Blackened Steel Nails

8  80  
 

Blackened Steel Sphere Mould

8  80  
 

Blackened Steel Spike Mould

8  80  
 

Dwarf-steel Bolts

5  60  
 

Dwarf-steel File

5  60  
 

Dwarf-steel Nails

5  60  
 

Dwarf-steel Sphere Mould

5  60  
 

Dwarf-steel Spike Mould

5  60  
 

High-grade Steel Bolts

4  
 

High-grade Steel Nails

4  
 

High-grade Steel Sphere Mould

4  
 

High-grade Steel Spike Mould

4  
 

Long Ash Shaft

2  40  
 

Long Black Ash Shaft

7  20  
 

Long Lebethron Shaft

5  60  
 

Long Mallorn Shaft

8  80  
 

Long Yew Shaft

4  
 

Low-grade Steel Bolts

2  40  
 

Low-grade Steel File

2  40  
 

Low-grade Steel Nails

2  40  
 

Low-grade Steel Sphere Mould

2  40  
 

Low-grade Steel Spike Mould

2  40  
 

Short Ash Shaft

2  40  
 

Short Black Ash Shaft

7  20  
 

Short Lebethron Shaft

5  60  
 

Short Mallorn Shaft

8  80  
 

Short Rowan Shaft

1  60  
 

Short Yew Shaft

4  
 

Spool of Ancient Steel Wire

7  20  
 

Spool of Blackened Steel Wire

8  80  
 

Spool of Dwarf-steel Wire

5  60