Standing Stone Games
Jump to navigation
Jump to search
Index to all News postings
Standing Stone Games
In December 2016, Standing Stone Games (SSG) acquired both LOTRO and DDO from Turbine.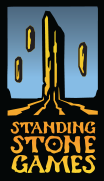 [https://www.daybreakgames.com/home] Daybreak Games - Everquest I and II.
About
According to Standing Stone Games' website:
"Standing Stone Games is a gaming studio based in Boston, Massachusetts, staffed by people who have been passionately working on MMOs for decades. We're proud to develop and operate our two free-to-play MMOs: Dungeons & Dragons Online and Lord of the Rings Online! We enjoy sharing heroic stories with our players that create a lifetime of memories. We invite you to explore our games, which hold the promise of depth, scope, and unlimited imagination!"