Quest
:
Lost Lore of Gorgoroth: Lhingris
Jump to navigation
Jump to search
Walkthrough & Notes
This quest is one of several regional Lost Lore of Gorgoroth quests. These quests revolve around collecting audio journals that provide context to and depictions of historical events. Every time you collect pages of a tome, a short audio log will play. When all the pages are collected for a region, you will receive a completed text and a housing item that plays the entire audio.
You can read the complete lore text at Audio Journals: Lhingris.
The pages needed to complete this quest are found at the following coordinates:
Best reached from the entrance of Kâm Lagúrz at

[64.2S, 10.7E]

to avoid shadow.
Best reached from the entrance at

[63.7S, 9.3E]

to avoid shadow. This page is just inside the entrance from this location.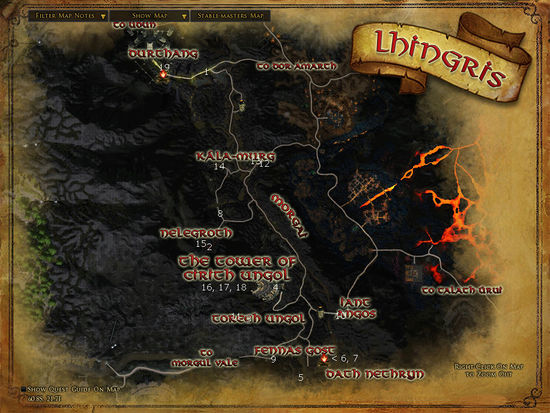 Rewards
Quest Text
Bestowal dialogue
You've found a torn page of a tome, sticky and covered in webs from Shelob's brood. Perhaps you can find other pages around Lhingris and complete the story.
Background
Pages of a tome can be found scattered around Lhingris. Perhaps you can complete the story if you find them all.
Objective 1
Collect Page 1
Collect Page 2
Collect Page 3
Collect Page 4
Collect Page 5
Collect Page 6
Collect Page 7
Collect Page 8
Collect Page 9
Collect Page 10
Collect Page 11
Collect Page 12
Collect Page 13
Collect Page 14
Collect Page 15
Collect Page 16
Collect Page 17
Collect Page 18
Collect Page 19
Web-covered Pages can be found scattered around Lhingris.
You should collect the pages to complete the story.
OBJECTIVE 2
The story is complete, and it tells of an uneasy alliance between Shelob and the Orcs of Cirith Ungol, which seems to have dissolved at Sauron's defeat. Shelob, however is still nowhere to be found. This Rûkhor, the Pale Herald, may also still be out there, somewhere.