Item:Black Steel Key
From Lotro-Wiki.com
Black Steel Key
Item Level: 1
Consumed On Use

 

 

"This item allows you to unlock a Mordor loot box."

 

Worth: 65  

 

LOTRO Store: 195  

 
Item Information
This item is used to open a

 Gorgoroth Steel-bound Lootbox.
Black Steel Keys can be acquired in various ways:
Purchased from the Lotro Store, it appears in your inventory with this alternate icon:
NOTE: As of Update 21.0.2, you CAN NOT search the LOTRO-Store for the "Black Steel Key", it finds nothing. However, if you click on the Gorgoroth Steel-bound Lootbox, instead of the window noted below, an entry will appear in your "Allert Window" with a link the the LOTRO Store and the key.
Concerning the availablity of Keys from "dailies:"
Opening a Lootbox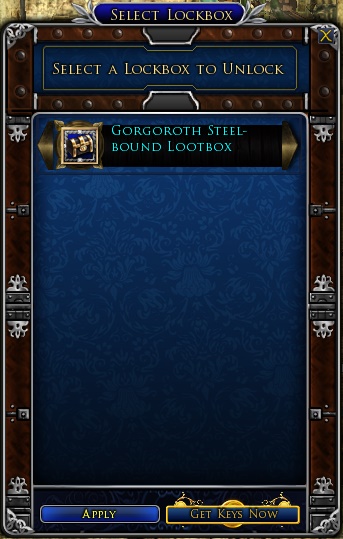 Right-click a Sturdy Key or a Lootbox and a dialogue window will be raised. Select which one you wish to open, also if having just one lootbox. Press "Apply" which will open yet another dialogue that asks you to verify your wish to unlock the lootbox, which will consume they key; press "yes" or "no".