High Hay
Jump to navigation
Jump to search
Description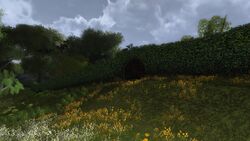 The High Hay is also known as the Great Hedge or just The Hedge. These nick-names denote the well-tended hedge that ran all along, from north to south, the eastern border of Buckland all the way to Withywindle. It was built by the residents to protect themselves from the dangers of the Old Forest and they carefully maintain it since.
The High Hay has two open passages, the Buckland Gate which is guarded by Bounders of the Shire, and the Old Forest Tunnel which lets resident and the knowledgeable travellers through. There are also other gates but all of them are locked all around the clock.
Lore
"Their land was originally unprotected from the East; but on that side they had built a hedge: the High Hay. It had been planted many generations ago, and was now thick and tail, for it was constantly tended. It ran all the way from Brandywine Bridge, in a big loop curving away from the river, to Haysend (where the Withywindle flowed out of the Forest into the Brandywine): well over twenty miles from end to end. But, of course, it was not a complete protection. The Forest drew close to the hedge in many places. The Bucklanders kept their doors locked after dark, and that also was not usual in the Shire." — The Fellowship of the Ring
Editor's note: The hedge just south of the Toad Marsh, Buckland's Craft-faire, and Brandy Hills is not really part of the fictional High Hay. It seems that the developers of Lotro have shut out this piece of land for one reason or the other.