Dark Runner
Jump to navigation
Jump to search
The Dark Runner is an NPC that will show up in the south-western part of the Shire Homesteads at night. He will run along the fence posts in a circular motion Shouting things such as: "It is true! I am the terror of the night!", "I run so fast a barely touch the fence posts!", "The night was made for fence running!", and "I love the smell of mushroom fields in the night!"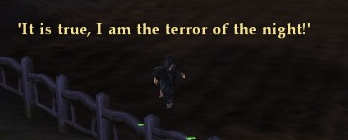 "Who was that you were looking for? ...oh, Strider, yes!" - Barliman Butterbur
NPC Stub
This article or section is marked for missing content.
Please Create new NPC or add any missing information.