Cúcheron
Jump to navigation
Jump to search
| | |
| --- | --- |
| | Cúcheron |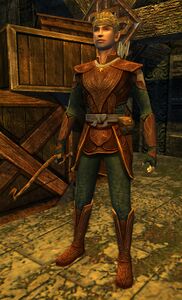 Description
We are first introduced to Cúcheron (Sindarin for "Bow Master") in Imlad Lalaith before the Hidden Guard crosses Anduin, and we get to see him in many instances during the Book 9, but he is usually on the front porch of the Haunted Inn, at Audaghaim.
Quest Involvement
Vol. 2, Book 9
Lore
During the Plans of the Golden Host instance you have the chance to ask him some questions.
Tell me about yourself.
'It has been my honour to provide food for the feasts of Lothlórien, and in recent days to guard its borders from the Orcs stirred out of Moria. I fought alongside Haldir and his brothers to keep the passes of Fanuidhol free from evil.'
What do you think of this mission?
'I do not know if victory is possible, but I will meet the challenge standing upright, with Cúmaeth bent, his string taut. We cross the River and bring the fight to the very lawns of the Enemy. While the Golden Host launches its attack, the Hidden Guard will deliver their charge to the gates of the fortress, and demand satisfaction.
'If fortune is on our side, one of our aims, at least, will end in victory. We will be better for the trying, even should we fail.'

We get to ask him some more questions when the Hidden Guard is trying to decide which way is the safest
How are you holding up?
'I am doing the best I am able, but it is not easy. I did not think this would be so difficult so quickly.'
What way do you think is best?
'I do not know which way we should take, and it weights heavily upon me! It seems to me there is no safe road, and we must be fools to travel upon any of these choices!'