Hytbold
From Lotro-Wiki.com
"Oh, I do not know about this. I do not know about this at all!" - Bingo Boffin
Accuracy
This article is marked for checking accuracy.
Please check other sources to verify if the information provided is correct.
Location
Hytbold is a settlement located within the Sutcrofts in East Rohan. [57.6S, 56.3W] Hytbold was recently burned down in an attack by Orcs from the East Wall. Rebuilding the town will allow access to class armor, special resource instances and more.

To start the rebuild of Hytbold and gain access to quests and NPCs:
Services
The following services can be found within Hytbold as it's rebuilt:
Traveling
Hytbold Stable-master destinations
NPCs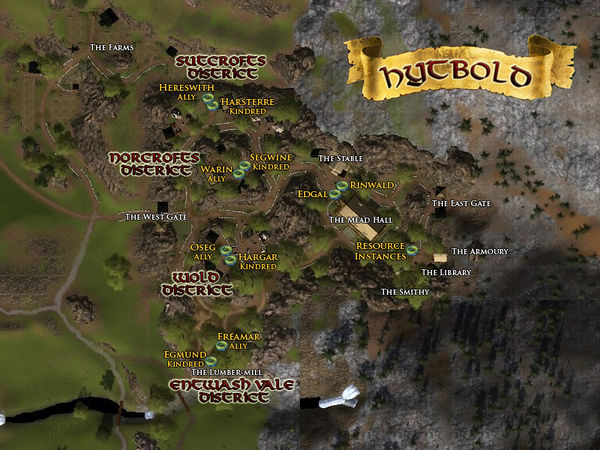 Also see: Category:Hytbold NPCs
Reputation
To rebuild Hytbold completely you must reach Kindred standing with all factions in East Rohan (Men of the Wold, Men of the Norcrofts, Men of the Entwash Vale, Men of the Sutcrofts). Some of the rebuilding quests only unlock after reaching Ally and Kindred.
Starting Reputation
If you finished every quest in Eastern Rohan while leveling up, you should have already reached the following reputation standings:
Accelerated Reputation
Using

Small Reputation Acceleration Tomes is a great way to reach Kindred with factions even before you reach level 84.
Barter for Reputation
Gain reputation thru Rinwald in Hytbold, he will exchange

5 Tokens of Hytbold for 1200 reputation points
Reputation Quests
Gain reputation thru the quest [85] Aiding the Eastemnet in Hytbold, it allows 5 additional daily quests that can grant 1200 reputation each (5000 total). more details below this section.
In addition there are daily repeatable quests in each region can help you continue to build reputation:
Rebuilding Hytbold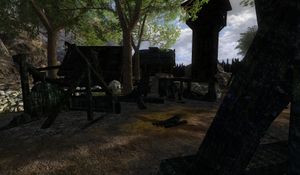 Aiding the Eastemnet
To begin, a player must first take the daily "wrapper-quest" [85] Aiding the Eastemnet in Hytbold.
This "wrapper-quest" allows completion of any five of the following quests that are available on that day.
Each town offers four (five on the first time) of the quests from its pool on any given day, for a total of sixteen quests to choose from.
Quests are changed daily at 3am EDT Server Time. However they are RANDOM, they are not rotated -- may be presented with the same quest multiple days in a row!
Quests are located all over East Rohan:
Quests are repeatable on a daily basis
Quest rewards:

10 Tokens of Hytbold, these are used to barter for rewards or rebuild Hytbold
Increased Standing (1200) for the region
Beginning with Update 10, players can reset the cooldown on the quest Aiding the Eastemnet at a cost of 5  (5 Mithril Coins) which can be purchased from the LOTRO Store. However, the cooldowns on the sixteen quests randomly available each day cannot be reset. By repeatedly resetting the cooldown on Aiding the Eastemnet, it is possible for a player to complete as many as 16 quests each day, earning 80 Tokens of Hytbold. To Reset the counter, after completing your 5 quests, for Aiding the Eastemnet return to Rinwald in Hytbold and talk to him again. The reset option will now appear. Note that the Mithril Coin icon will show the Hours and minutes remaining on the Cooldown timer (until 03:00 EST), not the cost.
Rebuilding Hytbold

Tokens of Hytbold acquired from Aiding the Eastemnet can be used to rebuild parts of the town. Currently all rebuild quests just need 1 Token of Hytbold. Most of the available rebuilding quests are gated by Ally and Kindred reputation with the various factions.
These quests can only be completed once per character.
[85] Welcome to Hytbold
[85] The Mead Hall: Rebuild
NOTE: Token costs to complete the rebuilding quests: Originally, most quests cost 5 or 10 Tokens of Hytbold to complete but now they cost one

Hytbold Finale
Once the above quests are complete, and the town is rebuilt, the story of Hytbold culminates in the Witan.
Deeds
There are numerous deeds associated with the rebuilding of Hytbold.
These deeds and their associated quests all reward Hytbold Tokens as you rebuild the town of Hytbold.
Many crafting resources are found near the Hytbold Crafting Instances (CI) [57.8S, 55.0W]
Expert Scholar - in Study of Hytbold
Expert Jeweller - in Study of Hytbold
Expert Weaponcrafter - adjacent to Forge
Expert Metalsmith - adjacent to Forge
Smithy of Hytbold - Blacksmith
Crafting Instances (CI)
When certain quests are completed in Hytbold, they unlock a Crafting Instance (CI) (aka resource instance) in which players can gather crafting materials.
These instances (and their associated quests) are repeatable daily and reward Token of Efforts.
Forester CI - Imping - Phased in by
The Lumber Mill: Rebuild - Edgal (no rep required)
The Lumber Mill: Superior Workbench - Fréamar (Rep Required: Entwash Ally)
The Smithy: Rebuild - Edgal (no rep required)
The Smithy: Superior Forge - Oseg (Rep Required:Wold Ally)
Scholar CI - Parphád - Phased in by
The Library: Rebuild - Edgal (no rep required)
The Library: Superior Study - Warin (Rep Required:Norcrofts Ally)
Token of Effort
Completing the crafting instances will provide you with Token of Efforts which can be used to barter for epic gear.
Barter Information
Barterers: Frithnoth, Ethelbryt & Ascbert (Hytbold)
Item to Receive
Items to Trade
 

Weathered Heritage Rune of Knowledge

3 Tokens of Effort
 

Plain Heritage Rune of Legend

9 Tokens of Effort
 

Fused Aged Relics

9 Tokens of Effort
 

Silver Token of the Riddermark

3 Tokens of Effort
 

Pile of Oak Wood

3 Tokens of Effort
 

Collection of Rohirric Text

3 Tokens of Effort
 

Bundle of Riddermark Hides

3 Tokens of Effort
 

Stack of Riddermark Ore

3 Tokens of Effort
 Shoulderguards of the Horse-lords Recipe
3 Tokens of Effort
 Shoulderpads of the Horse-lords Recipe
3 Tokens of Effort
 Circlet of the Horse-lords Recipe
3 Tokens of Effort
 Helm of the Horse-lords Recipe
3 Tokens of Effort
 Helmet of the Horse-lords Recipe
3 Tokens of Effort
 Pauldrons of the Horse-lords Recipe
3 Tokens of Effort
 Mooncandle Necklace Recipe
3 Tokens of Effort
 Sunbrand Necklace Recipe
3 Tokens of Effort
 Wyrmfire Necklace Recipe
3 Tokens of Effort
 Starblossom Necklace Recipe
3 Tokens of Effort
 Horse-lords' Tome of Will Recipe
3 Tokens of Effort
 Horse-lords' Tome of Agility Recipe
3 Tokens of Effort
 Horse-lords' Tome of Might Recipe
3 Tokens of Effort
 Horse-lords' Tome of Vitality Recipe
3 Tokens of Effort
 Horse-lords' Tome of Fate Recipe
3 Tokens of Effort
 Agile Bracelet of the Horse-lords Recipe
3 Tokens of Effort
 Mighty Bracelet of the Horse-lords Recipe
3 Tokens of Effort
 Vital Bracelet of the Horse-lords Recipe
3 Tokens of Effort
 Willful Bracelet of the Horse-lords Recipe
3 Tokens of Effort
Other Guides