Hytbold
From Lotro-Wiki.com
Location
Hytbold is a settlement located within the Sutcrofts in East Rohan. [57.6S, 56.3W]
Hytbold was recently burned down in an attack by Orcs from the East Wall. Fastred has sent you to lead the effort to rebuild the town.
Services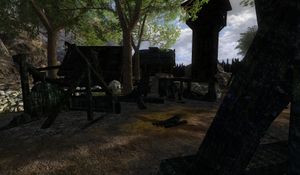 The following services can be found within Hytbold as it's rebuilt:
Traveling
Hytbold Stable-master destinations
Deeds
There are numerous deeds associated with the rebuilding of Hytbold.
Reputation
If you finished every quest in Eastern Rohan while leveling up, you should have already reached the following reputation standings:
Note: The quest [80] Speaking the Truth rewards no reputation, while its alternative [80] Inhild's Wish rewards 900 reputation. It may also be possible to get a little more reputation if you complete the quest [80] Leader of the Nink-hai or its alternative [80] The Prisoner Returns.
This means to reach Kindred standing with every faction, you'll need a total of 144,700 reputation. It will take a minimum of 25 days to do this, assuming you do five quests for Aiding the Eastemnet each day and don't "waste" any reputation on factions that are already at Kindred standing.
If you intend to rebuild Hytbold completely (which involves a minimum of 44 days of daily quests), you will have no problem reaching Kindred with every faction by the time you finish.
Quests
Aiding the Eastemnet
All of the following quests are repeatable on a daily basis.
To begin, a player must first take the daily "wrapper-quest" [85] Aiding the Eastemnet in Hytbold.
This "wrapper-quest" allows completion of any five of the following quests that are available on that day.
Each town offers four of the quests from its pool on any given day, for a total of sixteen quests to choose from.
The Quests available on any given day are changed daily at 3am EDT Server Time. However, they are presented RANDOMLY, they are not rotated -- which means that the same quest may be presented multiple times in a row!.
Beginning with Update 10, players can reset the cooldown on the quest Aiding the Eastemnet at a cost of 5  (5 Mithril Coins} which can be purchased from the LOTRO Store. However, the cooldowns on the sixteen quests randomly available each day cannot be reset. By repeatedly resetting the cooldown on Aiding the Eastemnet, it is possible for a player to complete as many as 16 quests each day, earning 80 Tokens of Hytbold
Rebuilding Hytbold
The Tokens of Hytbold acquired from aiding the Eastemnet are in turn used to rebuild parts of the town.
These quests can only be completed once per character.
[85] Welcome to Hytbold
[85] The Mead Hall: Rebuild

Once the above quests are complete, and the town is rebuilt, the story of Hytbold culminates in the Witan.
[85] The Witan
NPCs
Also see: Category:Hytbold NPCs
Many crafting resources are found near the Hytbold Crafting Instances (CI) [57.8S, 55.0W]
Expert Scholar - in Study of Hytbold
Expert Jeweler - in Study of Hytbold
Expert Weaponcrafter - adjacent to Forge
Expert Metalsmith - adjacent to Forge
Smithy of Hytbold - Blacksmith
Crafting Instances (CI)
When certain quests are completed in Hytbold, they unlock a Crafting Instance (CI) (aka resource instance) in which players can gather crafting materials.
These instances (and their associated quests) are repeatable daily.
Forester CI - Imping - Phased in by
The Lumber Mill: Rebuild - Edgal (no rep required)
The Lumber Mill: Superior Workbench - Fréamar (Rep Required: Entwash Ally)
The Smithy: Rebuild - Edgal (no rep required)
The Smithy: Superior Forge - Oseg (Rep Required:Wold Ally)
Scholar CI - Parphád - Phased in by
The Library: Rebuild - Edgal (no rep required)
The Library: Superior Study - Warin (Rep Required:Norcrofts Ally)
Other Guides