Tasks Bulletin Board
From Lotro-Wiki.com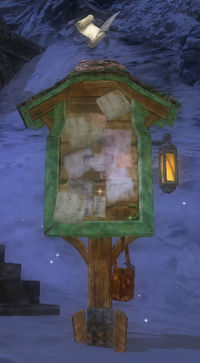 Description
Tasks Bulletin Boards were introduced in November 2010. Tasks are free repeatable quests that players can use to augment their leveling within the game world. Some highlights of Tasks system:
Available starting at level 8.
Available in most Regions of Middle Earth.
The number of tasks completed during the day and your current limit are visible at the top of the quest log.
Tasks require 10 items, unless otherwise noted. (NOTE: The item count per task was changed to this with the release of Riders of Rohan.)

Prior to Riders of Rohan, most tasks required 4, 8, or 15 items depending on drop rate for the associated item.
While item counts have now been set at 10 for most quests, item drop rates have not changed so tasks that used to require 4 items are now harder to finish.

There are 5 deeds associated with completing tasks that each reward Upgrade Task Limit (+1) and Titles:
Note
Trying to complete Tasks, particularly if trying for the Task Deeds shown above, can be difficult because each task item is level specific. As characters advance in level the task items that can be turned in change. Barring purchase of task items, or transferring items among alternate characters, their is a short opportunity to complete tasks on-level.
Use of the Stone of the Tortoise, an item which stops the accrual of personal experience while equipped, allows more time to complete level specific game content (like tasks) while on-level.
FAQ
These are the questions answered by "the board" or Odo Chubb in Hobbiton.
What is a task?

Tasks are repeatable quests using routine trophy drops from monsters (frequently called "vendor trash"). Tasks will always reward players with experience, most will award players with reputation for a particular faction, and will never reward players with coin or items. Tasks with a quest level above 50 also award Legendary Experience (IXP). Each day each character can complete up to a quota of five tasks.
What is the task quota?

Task quotas are the number of tasks your character can complete per day. All characters begin the game with a quota of five tasks. Completing task deeds increases your daily quota to a maximum of ten tasks per day. (Each completed deed increases the daily quota by one.) Alternately, you can unlock increases to the maximum quota by visiting the LOTRO Store. You can increase your daily task quota to a maximum of 15. The Task quota resets to zero every day at 3AM ET.
What is a quota reset?

Quota Resets allow players to reset their daily quota. Quota Resets are a consumable item available for purchase from the LOTRO Store. Players can only use five Quota Resets in a day. If you increase your daily task quota to 15, these 5 resets will allow you to complete a maximum of 75 tasks per day, per character.
Where can I find tasks?

Tasks are found on bulletin boards throughout Middle-earth. These bulletin boards are typically found in larger social centers. Tasks will begin at the bulletin board and typically end with an NPC located within the same social center.
Where do I turn in my tasks?
Why are there no tasks for me?

Level 50 and lower tasks (Eregion and lower regions): The in-game description says: "Tasks are only available to players within four levels of the minimum offering. You will find task boards throughout all regions of Eriador with boards in each region offering tasks for the level range of that region. If you are not seeing tasks here, perhaps there are tasks in a region that is more level appropriate to you."
Each task board will have tasks with different levels, as shown in the tables below. You must be at least the same level as the task and no more than 4 levels higher for the task to appear on the board. So a level 15 task can be picked up by characters of levels 15-19, or put another way, a level 19 character can pick up tasks with a task level of 15-19. Note that some bulletin boards list the same task item at different levels. Note that this level range for tasks applies only to level 50 and lower tasks. There is also the occasional task in this group that has a larger range of levels you can turn it in. The table at the very bottom will list the full range for a given task.
Level 51 and higher tasks (Moria and higher regions): Starting with Moria, the level range for tasks you can turn in is greatly expanded. The exact level range for turning in a task depends on the region you are in. For example, all Moria tasks (which are quest level 53 or 57) can be turned in if you are level 50-59.
Also note that there are a lot of items you'll pick up that say they can be turned in for tasks that don't appear in the charts below. If it doesn't appear in the charts around your level, you can safely vendor these for some well-earned coin (and free up valuable inventory space!)
October 15,2012 - Riders of Rohan was released, and there was changes to the amount of items needed to turn in. I will try and go through all the locations, and add the new locations and their requirements as well. Thank you for your patience in this.
Locations
The following is a list of items (the task is the name of the item) that can be turned in at the Tasks Bulletin Board in their respective locations:
Ered Luin (Levels 8 - 16)
The Shire (Levels 8 - 16)
Bree-land (Levels 14 - 24)
The Lone-lands (Levels 20 - 34)
The North Downs (Levels 20 - 34)
Evendim (Levels 28 - 42)
The Trollshaws (Levels 30 - 46)
The Misty Mountains (Levels 37 - 50)
Angmar (Levels 38 - 53)
Forochel (Levels 42 - 51)
Eregion (Levels 46 - 53)
Moria (Levels 50 - 59)
All Moria quests can be turned by characters who are level 50-59 regardless of the level of the task quest. All tasks in the first table below are quest level 53. All tasks in the second table below are quest level 57.
Enedwaith
There are no Task Bulletin Boards in Enedwaith!
Dunland (Levels 61 - 69)
Gap of Rohan (Levels 67-75)
Great River (Levels 68-80)
The tasks acquired in The Great River region can be turned in to any Tasks Bulletin Board in the region.
East Rohan (Levels 75-85)
The tasks acquired in the East Rohan region can be turned in to any Tasks Bulletin Board in the region.
Wildermore (Levels 80-88)
West Rohan (Levels 85-95)
The tasks acquired in the West Rohan region can be turned in to any Tasks Bulletin Board in the region.
Sortable
The following is a list of items (the task is the name of the item) that can be turned in at the Tasks Bulletin Board. The list defaults to alphabetical order, but you may sort by location, level, name, faction, or quantity needed.
See also the Task items list, which collects each item on a single line for easier checking against inventory.