Camp Site Fire
From Lotro-Wiki.com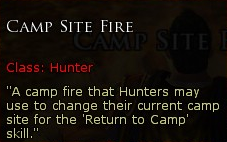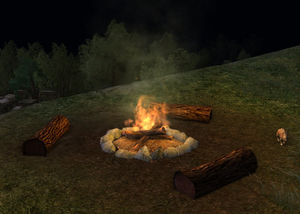 Camp Site Fires are locations used by hunters. Hunters who have learned the skill Return to Camp can bind to one at a time by right-clicking them (similarly to the use of Milestones). They can then carry their entire fellowship to the camp site fire. These fires are generally just outside the main instances in the game, but are also found elsewhere.
Some Camp Site Fires also have Mustering Horns by them, these allow any fellowship member to call another member to the fire.
At a Camp Site Fire Guardians and Burglars may summon Tinkers and Pedlars, respectively.
Eriador
Region
Location
Coords
Mustering Horn *
Angmar
Fail-á-Khro
[2.5N, 37.3W]
Eastern Malenhad (Gabilshathûr)
[2.7S, 26.5W]
Tyrn Lhuig
[1.7S, 33.3W]
Myrkworth (Imlad Balchorth)
[6.9N, 25.8W]
Tarmunn Sursa
[12.2N, 32.0W]
Yes
Urugarth
[10.0N, 32.6W]
Yes
Carn Dûm
[11.4N, 33.7W]
Yes
Iorelen's Camp (The Rift of Nûrz Ghâshu)
[10.8N, 15.5W]
Yes
Gorothlad (Maethad & Nan Gurth)
[4.1N, 21.7W]
Yes
Bree-land
The Horsefields
[23.8S, 52.7W]
Bree-town Hunting Lodge
[31.8S, 51.3W]
Southern Bree-fields
[28.2S, 54.3W]
The Great Barrow
[33.7S, 55.5W]
Yes
Dunland
Echad Naeglanc
[77.4S, 15.8W]
Yes
Tâl Methedras
[78.3S, 11.2W]
Yes
Barnavon
[84.8S, 16.7W]
Starkmoor
[82.9S, 21.3W]
Gravenwood
[83.2S, 14.5W]
Yes
Dunbog
[85.7S, 21.6W]
Yes
Enedwaith
Echad Idhrenfair
[63.5S, 21.5W]
Yes
Echad Daervunn
[66.6S, 21.5W]
Yes
Nár's Peak
[65.7S, 8.6W]
Yes
Harndirion
[69.4S, 13.8W]
Yes
Lich Bluffs
[72.7S, 14.8W]
Yes
Lich Bluffs, (Ost Dunhoth)
[74.0S, 19.3W]
Yes
Ered Luin
Falathlorn
[24.3S, 93.7W]
Treasure Field Base Camp
[18.7S, 98.2W]
Yes
Vale of Thrain
[19.1S, 101.7W]
Eregion
Pend Eregion
[41.4S, 11.1W]
Burnt Tor
[49.1S, 9.3W]
Mirobel
[52.3S, 17.1W]
Yes
Evendim
Annúminas
[19.1S, 70.9W]
Yes
Barandalf
[15.8S, 63.2W]
Bullroarer's Sward, (Northcotton Farms)
[23.4S, 67.9W]
Yes
Northern Emyn Uial
[6.2S, 74.7W]
Forochel
Itä-mâ
[7.4N, 75.4W]
Jä-rannit
[19.5N, 73.7W]
Yes
Jä-rannit
[17.5N, 64.5W]
Kuru-leiri
[19.5N, 83.7W]
Gap of Rohan
Forthbrond
[87.2S, 7.4W]
Grimbold's Camp
[87.8S, 3.9W]
The Lone-lands
Candaith's Encampment
[30.2S, 37.9W]
The Outer Gates, GA
[28.0S, 25.2W]
Yes
Minas Eriol
[36.0S, 39.5W]
Ost Haer
[37.6S, 28.0W]
The Misty Mountains
Bruinen Source East
[22.8S, 0.7E]
Bruinen Source North, (Sigrun's camp)
[19.1S, 2.9W]
Yes
Giant Halls
[29.9S, 2.4E]
Yes
The Mountain's Throat (near Goblin-town)
[21.4S, 5.9E]
Yes
Southern High Pass
[27.8S, 7.6E]
Nan Curunír
Dagoras' Camp
[84.8S, 3.5W]
The North Downs
Amlaith's Scar (Stoneheight)
[9.9S, 49.5W]
Yes
Fornost
[6.1S, 55.3W]
Yes
Nan Wathren Western Pass
[14.7S, 50.7W]
Ost Lagoros
[9.4S, 47.3W]
Rhunenlad
[12.5S, 38.5W]
Yes
The Shire
The Hill
[29.9S, 71.1W]
The Trollshaws
Nan Tornaeth (Calenthon's camp)
[28.2S, 15.3W]
Ost Chall (Lost Temple)
[26.9S, 14.2W]
Mustering horn only
High Moor (near Giant Valley)
[33.9S, 8.1W]
Yes
Echad Candelleth
[37.1S, 14.1W]
Rhovanion
Region
Area
Location
Coords
  Mustering Horn *  
Lothlórien
Taur Hith
[11.4S, 70.6W]
Mirkwood
Echad Mothelen
[13.6S, 58.1W]
Yes
Helethir
[16.2S, 44.5W]
Yes
Thangúlhad
[12.6S, 46.5W]
Moria
Durin's Way
Tharâkh Bazân
[3.2S, 108.6W]
Nud-melek
Bridge of Khazad-dûm
[8.1S, 98.5W]
Nud-melek
The Sixteenth Hall
[11.0S, 101.1W]
Yes
The Great Delving
Durin's Threshold
[8.2S, 116.2W]
The Great Delving
Lamâb-dûm
[7.5S, 113.4W]
The Redhorn Lodes
The Grand Stair
[10.3S, 103.9W]
Yes
The Flaming Deeps
Fil Gashan & Co.
[16.4S, 109.6W]
Yes
The Foundations of Stone
Dark Delvings
[15.4S, 97.4W]
Yes
The Foundations of Stone
Skûmfil
[13.4S, 100.4W]
Yes
The Silvertine Lodes
[10.6S, 113.3W]
The Silvertine Lodes
Menem-berej
[11.0S, 112.1W]
Yes
The Silvertine Lodes
The Forgotten Treasury
[11.1S, 112.7W]
Yes
The Water-works
Nalâ-dûm
[14.1S, 112.7W]
Yes
The Water-works
The Vile Maw
[17.6S, 116.9W]
Yes
Zelem-melek
Zelem-melek
[8.4S, 109.0W]
Zirakzigil
Durin's Bane
[15.5N, 108.5W]
Yes
The Great River
Brown Lands
Etheburg
[31.4S, 52.1W]
Eorlsmead
Stangard
[26.1S, 63.1W]
The Cuthstan
[25.8S, 65.9W]
Parth Celebrant
Idmar's Camp
[28.5S, 56.8W]
Yes
Parth Celebrant
[26.6S, 58.3W]
Yes
The Rushgore
Aculf's Camp
[29.1S, 55.2W]
Woodmen's Camp
[28.8S, 53.3W]
Yes
Thinglad
Haldirith
[21.4S, 63.6W]
East Rohan
The Wold
Harwick
[39.7S, 52.5W]
Norcrofts
Caddabrand's Camp
[51.4S, 55.8W]
West Rohan
Eastfold
[66.4S, 60.8W]



*   Blank for "No Mustering Horn", otherwise "Yes" or a comment