Yuletide Festival 2011
Jump to navigation
Jump to search
Yuletide Festival 2011 began December 20, 2011, and ended on January 31, 2012.
Festival Grounds
Festivities
Winter-home
Main article: Winter-home
You are cordially invited to join our Yule Festival celebration in Winter-Home. We have many events to suit your taste, whether you like eating contests, snowball-fights, theater, or simply helping folks around town.
General Festival Events
Festival Dances
Main article: Dance of the Races
During all seasonal Festivals, Dance Leaders will teach characters up to eight special racial dances (two from each Race) by completing dance lessons. There is one Dance Leader located in each of the festival grounds of Thorin's Hall Inn and The Festival Garden in Ered Luin, The Party Tree in The Shire, and the Festival Grounds in Bree-land.
Dance lessons take place approximately every 20 minutes, and the quests are available for about 5 minutes before the dance begins. As of U20, the quest start times are random.
When the Dance Leader starts, target the leader and follow their instructions using the commands /dance1, /dance2, or /dance3 as they instruct you. The time to perform each step decreases with the quest's progression.
At the end of the lesson, the Dance Leader returns to their original position and you are able to select your reward: either the first or second dance emote from that race. Complete the lessons again to learn all the dances!
Festival Horse Races
Main article: Festival Horse Races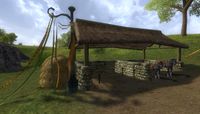 Each festival brings exciting horse races to The Shire Race-track and the Bree-land Festival Grounds. By completing a race in time, players can win festival tokens which can be exchanged for festival rewards. Starting with Yule Festival 2012, you no longer must win a horse race to purchase exclusive festival mounts from Will Peartree at Hengstacer Farm. At the Anniversary Festival, festival mounts can also be purchased from Henry Peartree at the Bree Market Square
Earn the Glittering Yule Steed and the Frosty Steed during the Yule Festival 2011.
Race locations:
All-Shire Run - The Shire, just north of the Shire Homesteads
The Bree Derby - Bree-land at the Festival Grounds
The quest will appear above the race-master's head, and you will be directed to choose whatever horse/pony you like to use for the race. You race against the clock. Gallop around the track as fast as you can. If you do not reach the end in time, and fail the quest, you will need to wait one hour for the quest to become available once more.

To acquire a Yule Steed you must trade:
A Bit of Drinking
Main articles: The Inn League and The Ale Association
The Inn League and The Ale Association are looking for a few good drinkers. Are you wishing to cause mischief at the smug inns of the realm or grant the wishes of those lonely drinkers who are simply in need of a good brew. Either way raise your mug and toast the festivities!
Quests
Ered Luin - Thorin's Hall's Inn

Ered Luin - The Festival Garden
Deeds
Festival Items
Item to Receive
Items to Trade
Cosmetic Clothing
 

Fancy Winter Cloak

12 Yule Festival Tokens
 

Warm Winter Cloak

12 Yule Festival Tokens
 

Snow-dusted Travelling Robe

12 Yule Festival Tokens
 

Snow-dusted Travelling Gloves

12 Yule Festival Tokens
 

Snow-dusted Travelling Hat

12 Yule Festival Tokens
 

Snow-dusted Travelling Boots

12 Yule Festival Tokens
 

Snow-dusted Travelling Shoulders

12 Yule Festival Tokens
 

Yule Tunic and Trousers

12 Yule Festival Tokens
 

Yule Hoodless Cloak

12 Yule Festival Tokens
 

Yule Hooded Cloak

12 Yule Festival Tokens
 

Yule Scarf

12 Yule Festival Tokens
 

Yule Stocking Cap

12 Yule Festival Tokens
 

Snowy Tunic and Trousers

12 Yule Festival Tokens
 

Snowy Hoodless Cloak

12 Yule Festival Tokens
 

Brisk Yule Cloak

12 Yule Festival Tokens
 

Snowy Dress

12 Yule Festival Tokens
Housing Items - Maps
 

Map of Thorin's Gate

12 Yule Festival Tokens
 

Map of Forochel

12 Yule Festival Tokens
 

Map of Frostbluff

12 Yule Festival Tokens
 

Map of the Southern Barrow-downs

12 Yule Festival Tokens
Housing Items
 

Unhappy Snowman

10 Yule Festival Tokens
 

Brown-capped Snowman

10 Yule Festival Tokens
 

Snowman with Mittens

10 Yule Festival Tokens
 

Snowman with a Staff

10 Yule Festival Tokens
 

Top Hat Snowman

10 Yule Festival Tokens
 

Wizard's Hat Snowman

10 Yule Festival Tokens
 

Bald Snowman

10 Yule Festival Tokens
 

Yule Flag

10 Yule Festival Tokens
 

Yule Banner

10 Yule Festival Tokens
Consumables

3

 

Perfect Snowballs

1 Yule Festival Token

5

 

Frosty Beverages

3 Yule Festival Tokens

5

 

Snow-jars

3 Yule Festival Tokens

5

 

Grim Crystals

3 Yule Festival Tokens

3

 

Piles of Fluffy Snow

3 Yule Festival Tokens

5

 

'Gift' Boxes

1 Yule Festival Token
Gallery
Cosmetic Items
Decoration Items
Emote Items