Yuletide Festival 2008
Jump to navigation
Jump to search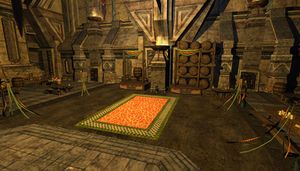 As the days shorten and the nights grow colder all the peoples of Middle-earth turn their thoughts to the annual Yule festival. Yulemath is celebrated by all the free peoples during the last month of the year. With traditional decorations, warm cider, rich feasts and other, more mischievous, pursuits; Yule is a time of hope across Middle-earth even as the Shadow of the enemy continues to grow.

Bree-land and Michel Delving will once again host exciting horse races with the winners taking home a sturdy winter mount. Visit the home lands of all the free peoples to experience their own unique take on the Yule festival. You may even learn some exciting decorating tips to take back to your own home.

The Yule festival starts December 11! Dress warm!
Horse Racing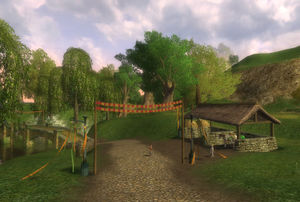 Race locations for the Yuletide horse/pony:
All-Shire Run - The Shire, just north of the Homesteads
The Bree Derby - The Bree Festival Fields, north of Bree
Each race occurs every 10 minutes. 5 minutes before each race starts, the quest will appear above the race-master's head. The first 4 people to grab the quest and a saddle will be able to race.
The Race
The course is laid out with various obstacles. Since there are lots of people around, it's advised you turn all your graphics to Very Low. Also new to this Yuletide, The Shire Festival Run has been switched and now runs the opposite direction from before!
Tokens for Horse
It is wise to turn in your items to the horse trader in the Bree Horse Fields, as you will only need 6 Yule Festival Tokens instead of 12.
To acquire the Yuletide Horse/Pony you must trade:
Yule Festival Quests
Yule-tree Quest Chain:
Festival Items
Gallery