Summer Festival 2011
Jump to navigation
Jump to search
Each race knows it by a different name
Lithe Festival for Hobbits
Summerdays for Men
Summerfest for Dwarves
Festival of Enedhin for Elves
Sunny days, backyard parties, Picnics,
fruity drinks with those little paper umbrellas.
Summer Festival means dancing, drinking,
Games, and even fireworks!
Summer Festival 2011 (June 21 - July 11)
The Summer Festival 2011 has arrived! There is fun and games for everyone and this year is no exception!
This year's Summer Festival features many exciting event and games This guide will help you find every game in which you could ever hope to participate while Festival-time looms in Middle-earth.
Event Locations
The Shire: The Party Tree, The Hill, and Bywater.
Ered Luin: Thorin's Hall's Inn, and the stairs to Frerin's Court
Ered Luin: The Festival Garden
Bree-land: The Festival Grounds in the Horsefields
Summer Festival Events
Keg Racing
Where: The stairs leading to Thorin's Hall
The dwarves of Thorin's Hall are having races amongst the doughtiest drinkers and runners of their folk. You can observe the races and venture a guess at who is the likeliest to win.
The Taste of Hobbiton
Where: The Hill
The Taste of Hobbiton invites hobbits with the most famous appetites to come and partake in a race to eat and run, and eat some more, as fast as the hungriest hobbit possibly can.
The Inn League
Where: The Party Tree.
The Inn League is always looking to recruit new members. Can you down all the ales and beers in the Shire before the time runs out?
Missing Things
Where: The Party Tree, The Festival Garden, and Thorin's Hall
Many festival patrons of Middle-earth are a bit zealous in their appreciation, and may need help gathering their wits when all is done.
The Ale Association
Where: Thorin's Hall's Inn
The Ale Association has expanded, for better or worse. Jonar the dwarf and his bullying ways have made quite an impression on many dwarves, and he is always looking to recruit more in his spiteful endeavors against the Inn League.
Fishing
Where: Bywater (for starters)
Beginning in Bywater, you will have the opportunity to do some exciting angling in several different areas of Middle-earth.
Fireworks
Where: The Festival Grounds in the Horsefields
Brighten the festival with rockets, the likes of which haven't been seen since Bilbo's time.
Dancing
Where: The Festival Garden, Bree-land Festival Grounds, The Party Tree, and the Thorin's Hall Tavern
Dance with the dance-trainers to learn how to dance like Elves, dwarves, Men, and hobbits! The trainer will grant you an opportunity to learn a new dance every twenty minutes.
Farming
Where: The Party Tree, Hobbiton-Bywater
You must be a farmer by profession if you would like to participate in the farming quest.
Quests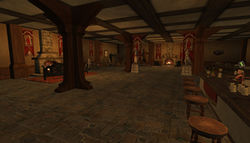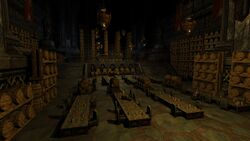 Footnotes
Festival Items
Item
Cost
 

Cherry-blossom Wine

48  
 

Gunderic's Ale

48  
 

Mid-day's Cider

48  
 

Summer Fern Beer

48  
 

Summer Greens

4  
 

Summer Grouse

2  20  
 

Summer Perry's Porter

48  
 

Summer Pudding

1  60  
 

Summer Sausage

1  12  
 

Summer Squash

48  
 

Summer Willow Wine

48  
Item
Cost
Craft: Ingredients
 

Lengalenas Seed

15  
 

Stonecrop Leaf Seed

15  
 

Summer Green-weed Seed

15  
Pipeweed
 

Pouch of Lengalenas Pipe-weed

1  35  
 

Pouch of Stonecrop Leaf Pipe-weed

45  
 

Pouch of Summer Green-weed Pipe-weed

2  25  
Recipe: Farming Tier 1
 Stonecrop Leaf Field Recipe
10  35  
 Stonecrop Leaf Pipe-weed Recipe
10  35  
Recipe: Farming Tier 3
 Lengalenas Field Recipe
41  25  
 Pipe-weed Recipe
41  25  
Recipe: Farming Tier 5
 Summer Green-weed Field Recipe
82  50  
 Summer Green-weed Pipe-weed Recipe
82  50  

Barterer: Neddie Grubb (Quartermaster at Hobbiton-Bywater in The Shire) [31.2S, 70.0W]
Item to Receive
Items to Trade
 

Blue Fireworks Launcher

5 Summer Festival Tokens
 

Orange Fireworks Launcher

5 Summer Festival Tokens
 

Green Fireworks Launcher

5 Summer Festival Tokens
 

Seasonal Banner

 

Starry Flounder

6 Summer Festival Tokens
 

'Lithe Days' Wall

10 Summer Festival Tokens
 

Summer Festival Token

4 Luillims
 

Summer Festival Token

4 Amberjacks
 

Summer Festival Token

4 Drums

2

 

Summer Festival Token

s
Celebhal

2

 

Summer Festival Token

s
 

Silver Haddock

2

 

Summer Festival Token

s
 

Golden Redfish

2

 

Summer Festival Token

s
 

Starry Flounder

 

Summer Festival Token

4 Small Fishes
 

Essence Reclamation Scroll

40 Summer Festival Tokens
 

Anfalas Star-lit Crystal

30 Summer Festival Tokens
Barterer: Ernwyd Brandybuck (Quartermaster at The Party Tree in The Shire) [29.8S, 71.6W]
Item to Receive
Items to Trade
 

Celebhal

12 Summer Festival Tokens
 

Silver Haddock

12 Summer Festival Tokens
 

Golden Redfish

12 Summer Festival Tokens
 

Starry Flounder

12 Summer Festival Tokens
 

Blue Fireworks Launcher

5 Summer Festival Tokens
 

Orange Fireworks Launcher

5 Summer Festival Tokens
 

Green Fireworks Launcher

5 Summer Festival Tokens
 

Seasonal Banner

 

Starry Flounder

6 Summer Festival Tokens
 

'Lithe Days' Wall

10 Summer Festival Tokens
 

Large Flowerbed

 

Celebhal

6 Summer Festival Tokens
 

Large Vegetable Garden

10 Summer Festival Tokens
 

Summer Welcome Mat

 

Celebhal

6 Summer Festival Tokens
 

Eternal Elven-song Music Box

10 Summer Festival Tokens
 

'Festival of Enedhin' Wall

10 Summer Festival Tokens
 

Green Ceremonial Dress

 

Celebhal

6 Summer Festival Tokens
 

Yellow Fireworks Launcher

5 Summer Festival Tokens
 

Red Fireworks Launcher

 

Silver Haddock

 

Purple Fireworks Launcher

5 Summer Festival Tokens
 

Triumphs of the Dwarves Music Box

10 Summer Festival Tokens
 

'Summerfest' Wall

10 Summer Festival Tokens
 

Blue Ceremonial Dress

 

Silver Haddock

6 Summer Festival Tokens
 

Small Vegetable Garden

Golden Redfish

6 Summer Festival Tokens
 

Purple Flowerbox

Golden Redfish

6 Summer Festival Tokens
 

Orange Flowerbox

10 Summer Festival Tokens
 

Summerdays Music Box

10 Summer Festival Tokens
 

'Summerdays' Wall

10 Summer Festival Tokens
 

White Ceremonial Dress

Golden Redfish

6 Summer Festival Tokens
Barterer: Will Hindmarsh (Quartermaster at Chetwood in Bree-land) [33.0S, 50.0W]
Item to Receive
Items to Trade
 

Small Vegetable Garden

Golden Redfish 6 Summer Festival Tokens
 

Purple Flowerbox

Golden Redfish 6 Summer Festival Tokens
 

Orange Flowerbox

10 Summer Festival Tokens
 

Summerdays Music Box

10 Summer Festival Tokens
 

'Summerdays' Wall

10 Summer Festival Tokens
 

White Ceremonial Dress

Golden Redfish 6 Summer Festival Tokens
 

Essence Reclamation Scroll

40 Summer Festival Tokens
 

Anfalas Star-lit Crystal

30 Summer Festival Tokens
 

Summer Festival Token

4 Luillims
 

Summer Festival Token

4 Amberjacks
 

Summer Festival Token

4 Drums

2

 

Summer Festival Token

s
Celebhal

2

 

Summer Festival Token

s
 

Silver Haddock

2

 

Summer Festival Token

s
 

Golden Redfish

2

 

Summer Festival Token

s
 

Starry Flounder

 

Summer Festival Token

4 Small Fishes
Barterer: Láfi (Quartermaster at Hall of Merchants within Thorin's Hall) [13.8S, 103.2W]
Barterer: Gaellien (Quartermaster at Celondim in Ered Luin) [28.2S, 92.1W]
Item to Receive
Items to Trade
 

Large Flowerbed

 

Celebhal

6 Summer Festival Tokens
 

Large Vegetable Garden

10 Summer Festival Tokens
 

Summer Welcome Mat

 

Celebhal

6 Summer Festival Tokens
 

Eternal Elven-song Music Box

10 Summer Festival Tokens
 

'Festival of Enedhin' Wall

10 Summer Festival Tokens
 

Green Ceremonial Dress

 

Celebhal

6 Summer Festival Tokens
 

Essence Reclamation Scroll

40 Summer Festival Tokens
 

Anfalas Star-lit Crystal

30 Summer Festival Tokens
 

Summer Festival Token

4 Luillims
 

Summer Festival Token

4 Amberjacks
 

Summer Festival Token

4 Drums

2

 

Summer Festival Token

s
Celebhal

2

 

Summer Festival Token

s
 

Silver Haddock

2

 

Summer Festival Token

s
 

Golden Redfish

2

 

Summer Festival Token

s
 

Starry Flounder

 

Summer Festival Token

4 Small Fishes
Barterer: Summer Rewards Vendor NPCs
Item to Receive
Items to Trade
Emotes and Cosmetic Pets
 

Grant Hobbit Dance 4 Emote

50 Summer Festival Tokens
 

Grant the Fountain Emote

50 Summer Festival Tokens
 

Tome of the Sunny Summer Kite

35 Summer Festival Tokens
 

Tome of the Soaring Bird Kite

30 Mithril Coins
 

Tome of the Summer Flower Kite

50 Summer Festival Tokens
 

Tome of the Midsummer's Comet Kite

50 Summer Festival Tokens
 

Grant the Bubbling Fish Pipe Emote

50 Summer Festival Tokens
 

Tome of the Blue Peahen

50 Summer Festival Tokens
 

Tome of the Blue Peacock

50 Summer Festival Tokens
Summer Festival Cosmetic - New
 

Peacock Cap

15 Summer Festival Tokens
 

Peacock Bonnet

15 Summer Festival Tokens
 

Peacock Waistcoat

15 Summer Festival Tokens
 

Peacock Dress

15 Summer Festival Tokens
 

Picnic Dress

15 Summer Festival Tokens
 

Peacock Trousers

15 Summer Festival Tokens
Gift Boxes - New
 

Peacock Cap - Gift Wrapped

15 Summer Festival Tokens
 

Peacock Bonnet - Gift Wrapped

15 Summer Festival Tokens
 

Peacock Waistcoat - Gift Wrapped

15 Summer Festival Tokens
 

Peacock Dress - Gift Wrapped

15 Summer Festival Tokens
 

Picnic Dress - Gift Wrapped

15 Summer Festival Tokens
 

Peacock Trousers - Gift Wrapped

15 Summer Festival Tokens
Cosmetic Rewards - 1 Year Old
 

Short-sleeved Sunflower Tunic and Trousers

15 Summer Festival Tokens
 

Long-sleeved Sunflower Tunic and Trousers

15 Summer Festival Tokens
 

Sunflower Cloak

15 Summer Festival Tokens
 

Hooded Sunflower Cloak

15 Summer Festival Tokens
 

Short-sleeved Sunflower Dress

15 Summer Festival Tokens
 

Long-sleeved Sunflower Dress

15 Summer Festival Tokens
 

Sleeveless Sunflower Dress

15 Summer Festival Tokens
Cosmetic Rewards - Classic Rewards Part 2
 

Robe of the Wedmath Celebration

15 Summer Festival Tokens
 

Cloak of the Wedmath Celebration

15 Summer Festival Tokens
 

Hooded Cloak of the Wedmath Celebration

15 Summer Festival Tokens
 

Robe of the Midsummer

15 Summer Festival Tokens
 

Cloak of the Midsummer

15 Summer Festival Tokens
 

Hooded Cloak of the Midsummer

15 Summer Festival Tokens
 

Summerdays Dress

15 Summer Festival Tokens
 

Summerdays Tunic and Trousers

15 Summer Festival Tokens
 

Summerdays Cloak

15 Summer Festival Tokens
 

Summerdays Hooded Cloak

15 Summer Festival Tokens
 

Summerdays Hat

15 Summer Festival Tokens
Cosmetic Rewards - Classic Rewards Part 1
 

Cloak of the Summer Sea

15 Summer Festival Tokens
 

Mantle of the Summer Sea

15 Summer Festival Tokens
 

Cloak of Nárië

15 Summer Festival Tokens
 

Hooded Cloak of Nárië

15 Summer Festival Tokens
 

Surcoat of Nárië

15 Summer Festival Tokens
Cosmetic Rewards - Special
 

Turquoise Summer Circlet

10 Summer Festival Tokens
 

Sleeveless Elven Tunic

10 Summer Festival Tokens
 

Long-sleeved Summer Dress

10 Summer Festival Tokens
 

Sleeveless Summer Dress

10 Summer Festival Tokens
 

Short-sleeved Summer Dress

10 Summer Festival Tokens
 

Long-sleeved Summer Tunic and Trousers

10 Summer Festival Tokens
 

Short-sleeved Summer Tunic and Trousers

10 Summer Festival Tokens
 

Golden Tree Summer Cloak

10 Summer Festival Tokens
 

Summer Travelling Cloak

10 Summer Festival Tokens
 

Cloak of the Summer Sun

10 Summer Festival Tokens
 

Sun Hat

10 Summer Festival Tokens
Housing Rewards - General
 

Glowing Bonfire

15 Summer Festival Tokens
 

Smoky Bonfire

15 Summer Festival Tokens
 

Modest Cookfire

15 Summer Festival Tokens
 

Feast Day Cookfire

15 Summer Festival Tokens
 

White Wicker Chair

10 Summer Festival Tokens
 

Summer Hammock

10 Summer Festival Tokens
 

Mossy Wicker Chair

10 Summer Festival Tokens
 

Summerfest Painting

10 Summer Festival Tokens
 

Summerfest Bed

10 Summer Festival Tokens
Housing Rewards - Maps
 

Map of Lothlórien

10 Summer Festival Tokens
 

Map of the Ettenmoors

10 Summer Festival Tokens
 

Map of Caras Galadhon

10 Summer Festival Tokens
 

Map of the Northern Barrow-downs

10 Summer Festival Tokens
Consumables

5

 

Monster Fare

3 Summer Festival Tokens

5

 

Foul Blast

3 Summer Festival Tokens

5

 

Fire-breathing Potion

3 Summer Festival Tokens

5

 

Essence of Toad

3 Summer Festival Tokens

5

 

Mug of Triple Strength Brandy

3 Summer Festival Tokens

5

 

Mug of...Liquid

3 Summer Festival Tokens

5

 

Saffron's Lipstick

3 Summer Festival Tokens

5

 

Vile Vittles

3 Summer Festival Tokens

5

 

Pile of Mysterious Powder

5 Summer Festival Tokens
Summer Festival Steeds
 

Picnic Steed

40 Summer Festival Tokens
 

Caparison of the Perfect Picnic

40 Summer Festival Tokens
 

Saddle of the Perfect Picnic

40 Summer Festival Tokens
 

Basket of the Perfect Picnic

40 Summer Festival Tokens
 

Sunflower Steed

20 Summer Festival Tokens
 

Sunflower Head-piece

20 Summer Festival Tokens
 

Sunflower Caparison

20 Summer Festival Tokens
 

Sunflower Saddle

20 Summer Festival Tokens
 

Sunflower Tail-piece

20 Summer Festival Tokens
 

Basket of Sunflowers

20 Summer Festival Tokens
Summer Festival Steeds - Mithril
 

Summerdays Steed

70 Mithril Coins
 

Lithe Festival Steed

70 Mithril Coins
 

Pale Golden Summer Steed

70 Mithril Coins
 

Summerfest Steed

70 Mithril Coins
 

Steed of the Midsummer

70 Mithril Coins
 

Caparison of the Midsummer

70 Mithril Coins
 

Steed of the Wedmath Celebration

70 Mithril Coins
 

Caparison of the Wedmath Celebration

70 Mithril Coins
 

Steed of Nárië

70 Mithril Coins
 

Caparison of Nárië

70 Mithril Coins
 

Steed of the Summer Sea

70 Mithril Coins
 

Caparison of the Summer Sea

70 Mithril Coins
Dyes

6

 

Rohan Green Dye

8 Summer Festival Tokens

6

 

Sunset Orange Dye

8 Summer Festival Tokens

6

 

Shire Peach Dye

10 Mithril Coins

6

 

Dark Clay Dye

10 Mithril Coins
Essences and Legendary Items
 

Essence Reclamation Scroll

40 Summer Festival Tokens
 

Anfalas Star-lit Crystal

30 Summer Festival Tokens
Gift Boxes - 1 Year Old
 

Short-sleeved Sunflower Tunic and Trousers - Gift-wrapped

15 Summer Festival Tokens
 

Long-sleeved Sunflower Tunic and Trousers - Gift-wrapped

15 Summer Festival Tokens
 

Sunflower Cloak - Gift-wrapped

15 Summer Festival Tokens
 

Hooded Sunflower Cloak - Gift-wrapped

15 Summer Festival Tokens
 

Sleeveless Sunflower Dress - Gift-wrapped

15 Summer Festival Tokens
 

Short-sleeved Sunflower Dress - Gift-wrapped

15 Summer Festival Tokens
 

Long-sleeved Sunflower Dress - Gift-wrapped

15 Summer Festival Tokens