Summer Festival 2008
Jump to navigation
Jump to search
Middle-earth celebrates this year's Summer Solstice Festival from August 1st - 18th! Extended festival from August 22nd - September 1st.
Events
Dancing
Dancing is back, and better than ever! Now learn 2 different dance moves from each dance leader. These new emotes are fun-tastic for any event!
Drinking
The Inn League is at it again with their initiation. If you haven't joined their ranks yet now is your chance! Earn reputation and have a good time drinking.
Horse Racing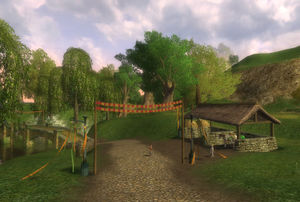 Join the horse race and earn a chance to get your very own festival horse.
There are two places to race to attain the Summer Festival horse/pony:
The Shire, just north of the Homesteads
The Bree Festival Grounds, north of Bree near the horse fields

Each race occurs every 10 minutes. 5 minutes before each race starts, the quest will appear above the race-master's head. The first 4 people to grab the quest and a saddle, will be able to race.

The Race: The course is laid out with various obstacles. Since there are lots of people around, it's advised you turn all your graphics to Very Low.

Turning the token in for your horse: Turn-ins occur in the Bree Horsefields.
To acquire the Lithe Horse/Pony you must trade:
Fishing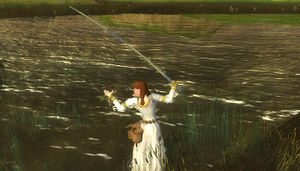 Fishing seems to be the major event this summer festivals so make sure to pick up your fishing hobby and fishing poles. Your skill will not effect how well you do in these quests, so everyone have fun!
To get any of the "barter fish" you must first activate the quest, Stocking the Pond from Neddie Grubb in Bywater.
The first quest will require you to fish for 3 different barter fish from Thorin's Hall, Celondim, and Bree. Once finished you can turn in your quest to the hobbit in Bywater.
The next quest will allow you to fish for 20 minutes in Mudbottom Lake (right next to Neddie Grubb). You are allowed to fish there for 20 minutes.
Once you've turned in your fish to Neddie Grubb, you can return to Thorin's Hall, Celondim, and Bree-land to accept quests to fish there for 20 minutes each place. You can only catch the rare fish designated to each area!
Note: Once your fishing quests are completed you will only catch normal fish.
Spoiler Alert
The first time you do the Quest Stocking the Pond do not turn it in until after you've tired from fishing. If you do not turn this quest in you can keep fishing endlessly until you have the amount of barter and rare fish you want. Once you have what you want you can turn in the first quest and take the second quest. The second quest allows you to fish Starry Flounders.
Festival Tokens
Festival Tokens are mainly acquired from fishing. However, you can also turn in your horse race token for 3 festival tokens.
Barter locations for Festival Tokens:
Quests
Bree-land - Festival Grounds, north of Bree

Celondim - Just south of the town.

Shire - The Party Field, north of the river.
- Bywater near the river

Thorin's Hall - In the tavern below.
- Near the River
Festival Items
Item to Receive
Items to Trade
Bree-land
 

Herb Garden

1 Golden Redfish 8 Summer Festival Tokens
 

Purple Flowerbox

1 Golden Redfish 8 Summer Festival Tokens
 

Orange Flowerbox

12 Summer Festival Tokens
 

Summerdays Music Box

12 Summer Festival Tokens
 

'Summerdays' Wall

12 Summer Festival Tokens
White Ceremonial Dress
1 Golden Redfish 8 Summer Festival Tokens
 

Summer Festival Token

4 Drums

5

 

Summer Festival Token

1 Golden Redfish
Thorin's Hall
 

Yellow Fireworks Launcher

6 Summer Festival Tokens
 

Red Fireworks Launcher

1 Silver Haddock
 

Purple Fireworks Launcher

6 Summer Festival Tokens
 

Summerfest Music Box

12 Summer Festival Tokens
 

'Summerfest' Wall

12 Summer Festival Tokens
Blue Ceremonial Dress
1 Silver Haddock 8 Summer Festival Tokens
 

Summer Festival Token

4 Amberjacks

5

 

Summer Festival Token

1 Silver Haddock
Celondim
 

Large Flowerbed

1 Celebhal 8 Summer Festival Tokens
 

Vegetable Garden

12 Summer Festival Tokens
 

Summer Welcome Mat

1 Celebhal 8 Summer Festival Tokens
Festival of Enedhin Music Box
12 Summer Festival Tokens
 

'Festival of Enedhin' Wall

12 Summer Festival Tokens
Green Ceremonial Dress
1 Celebhal 8 Summer Festival Tokens
 

Summer Festival Token

4 Luillims

5

 

Summer Festival Token

1 Celebhal
The Shire
 

Blue Fireworks Launcher

6 Summer Festival Tokens
 

Orange Fireworks Launcher

1 Starry Flounder
 

Green Fireworks Launcher

6 Summer Festival Tokens
 

Seasonal Banner

1Starry Flounder 8 Summer Festival Tokens
 

'Lithe Days' Wall

12 Summer Festival Tokens
 

Summer Festival Token

4 Luillims
 

Summer Festival Token

4 Amberjacks
 

Summer Festival Token

4 Drums

5

 

Summer Festival Token

1 Celebhal

5

 

Summer Festival Token

1 Silver Haddock

5

 

Summer Festival Token

1 Golden Redfish

5

 

Summer Festival Token

1 Starry Flounder

3

 

Summer Festival Token

All-Shire Run Token