Spring Festival 2011
Jump to navigation
Jump to search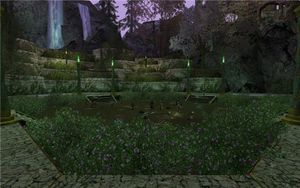 Celebrate Spring with all of your favorite Spring quests and activities:
Run the Inn League quests
Race in Bree and the Shire
The Hedge Maze is back!
Obtain one of the Spring-themed steeds

This year the Spring Festival also brings:
Even more all-new quests
Shrew stomping
Lucky cookies
Spring Festival begins March 23, 2011 (US)
Picking Flowers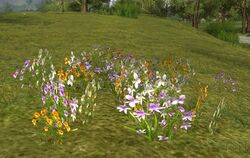 One of the more predominant activities during Spring Festival is to run around picking flowers. If you take the time to do so then you will be rewarded with different colored gift boxes. Inside those boxes are special items!

Flowers and Locations:
Marigolds from the stone circle north of Michel Delving.
Violets from the stone circle outside Bree's West Gate.
Primrose flowers from above Celondim.
Horse Races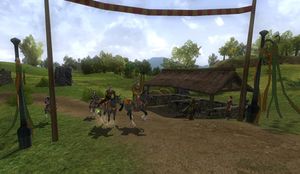 Join the Springfest Horse Races at the Shire or Bree-land festival grounds to earn Springfest Race Tokens that can be bartered for two different mounts: the Springtime Steed, and the Blue Roan Steed.
Race locations:
The Delving Fields Spring Festival Run - The Delving Fields, just north of the Shire Homesteads
The Bree-fields Spring Festival Run - The Festival Grounds in the Horsefields
The quest will appear above the race-master's head, and you will be directed to choose whatever horse/pony you like to use for the race. You race against the clock. Gallop around the track as fast as you can. If you do not reach the end in time and fail the quest, the quest will be available again in an hour.
Festival Mounts
To acquire a Festival mount, speak with Will Peartree at Hengstacer Farm.
During Spring Festival, he offers:
Quests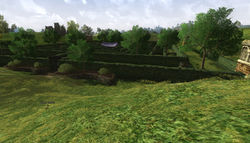 [...] Bullroarer's Brew 8
[...] Paying Your Respects 8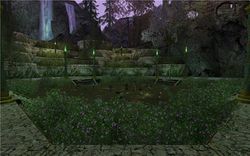 At The Shire Race-track and Festival Grounds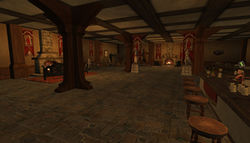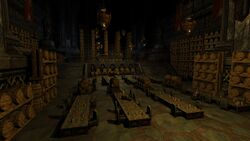 Footnotes
Festival Items
Item to Receive
Items to Trade
 

White Rose Circlet

15 Spring Leaves
 Potted Lily-of-the-Valley Recipe
5 Spring Leaves
 Potted Iris Recipe
5 Spring Leaves
 Potted Bluebottle Recipe
5 Spring Leaves
 

Slapper Fish

15 Spring Leaves
 

Cold Fish

15 Spring Leaves

2

 

Extra Deliciously Tasty Biscuits

3 Spring Leaves

5

 

D.R.A.G.O.N

3 Spring Leaves
 

Moria Keg

15 Spring Leaves

5

 

Doom-shroom

3 Spring Leaves
 

Fine Portrait of a Shrew

15 Spring Leaves
 

Majestic Shrew Statue

15 Spring Leaves

5

 

Springfest Brew Mug

s
3 Spring Leaves
 

Garden-dwarf

15 Spring Leaves
 

Spring Festival Theme

15 Spring Leaves
 

Hobbit Hedge Sculpture

15 Spring Leaves
 

Garden Boar Sculpture

15 Spring Leaves
 

Clover Table

15 Spring Leaves
 

Clover Stool

15 Spring Leaves
 

Long-sleeved Spring-flinger Hauberk

15 Spring Leaves
 

Short-sleeved Spring-flinger Hauberk

15 Spring Leaves
 

Spring Adventurer's Quiver

15 Spring Leaves
 

Spring-flinger Hat

15 Spring Leaves
 

Sack of Petals

25 Spring Leaves
 

Spring-flinger Cloak

15 Spring Leaves
 

Spring-flinger Hooded Cloak

15 Spring Leaves
 

Spring Dandy Cloak

15 Spring Leaves
 

Spring Dandy Hooded Cloak

15 Spring Leaves