Harvest Festival 2010
Jump to navigation
Jump to search
Each race knows it by a different name
Harvest Festival for Hobbits
Harvestmath for Men
Autumnfest for Dwarves
Iavasmereth for Elves
Everywhere you turn in Middle-earth,
The fall season is in full colors,
Harvest Festival means harvesting, dancing,
Drinking, fun games, and trick or treating!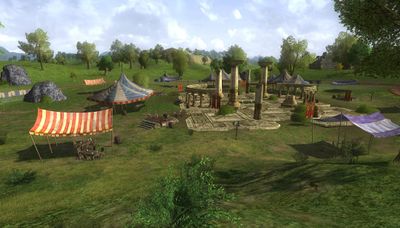 Leaves are turning colors, the air is growing crisp, tricks and treats are ready, and in Middle-earth that means - Harvestmath is here! This year the festival is back and better than ever before. Become a Patron of the Festival and join the fun with new quests, new deeds, and new rewards. Plus, journey beneath the Party Tree and discover the new Haunted Burrow. Don't miss out on the spookiest party of the year! Check your in-game mail for your invitation today!

HARVEST FESTIVAL ENDS NOVEMBER 15, 2010 at 6:00 a.m. ET.
HARVEST FESTIVAL in Europe has been extended until Friday 26th November.
Festivities
Haunted Burrow
For more detail, see The Haunted Burrow
The Hobbits of the Shire just wanted to add another oven to the kitchens at the Party Tree, but they dug up more than they bargained for! Every Hobbit in Hobbiton is talking about what may lurk in the dark and twisty tunnels that run beneath Bag End. Did crazy old Bilbo hide his treasure there? Did he leave anything to guard it? Some even whisper that Gandalf put a curse on the place to keep the nosy neighbors away—but that wouldn't stop a brave adventurer from trying to find out! But beware, in the Haunted Burrow, things do go bump in the night!

Discover ten new quests inside a haunted Hobbit fun-house! Uncover traps, solve riddles, and navigate spooky rooms! Explore every wing of the Haunted Burrow for a truly Spooktacular time! Earn new deeds, titles, and rewards – including a rare painted skeleton mount!
A Bit of Drinking
The Ale Association and The Inn League are looking for a few good drinkers to cause mischief at the smug inns of the realm. Raise a mug and check out the new available quests!
Mini Games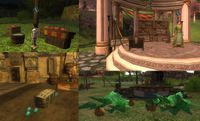 Try your hand at games such as Geode-hunting, Scroll-grabbing, Apple Bobbing & Pumpkin Picking
Mini Game Locations: Thorin's Hall
Troves and Trickery
Troves and Trickery Returns – Play tricks on the citizens of Bree, Thorin's Hall, Duillond, and Hobbiton
Horse Races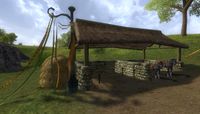 Join the Harvestmath Horse Races at the Shire or Bree-land festival grounds to earn two different mounts: the Harvestmath Horse (or Pony), and the new Sable Harvestmath Horse (or Pony)
Race locations:
All-Shire Run - The Delving Fields, just north of the Shire Homesteads
The Bree Derby - The Festival Grounds in the Horsefields
The quest will appear above the race-master's head, and you will be directed to choose whatever horse/pony you like to use for the race. You race against the clock. Gallop around the track as fast as you can. If you do not reach the end in time, and fail the quest, you will need to wait one hour for the quest to become available once more.
Game Vendors
Barter Locations for festival tokens:
Thorin's Hall Inn - Dýri Games Master
The Festival Garden - Malenfas Games Master
Festival Grounds - Bess Forester Games Master
The Party Tree - Sawlo Puddifoot Games Master
Quests

Ered Luin - The Festival Garden

Ered Luin - Thorin's Hall's Inn
Festival Items
Item to Receive
Items to Trade
 

Guide to the Cowbell

4 Fall Festival Tokens
 

Wooden Beaver Statue

12 Fall Festival Tokens
 

Giant Pumpkin

12 Fall Festival Tokens
 

Harvest Statue

12 Fall Festival Tokens
 

Goblin Statue

12 Fall Festival Tokens
 

Free Peoples' Flag

8 Fall Festival Tokens
 

Scarecrow

12 Fall Festival Tokens
 

Sundial

12 Fall Festival Tokens
 

Autumn Welcome Mat

8 Fall Festival Tokens
 

Pipe Festival Mask

12 Fall Festival Tokens
 

Goblin Festival Mask

12 Fall Festival Tokens
 

BOO!

12 Fall Festival Tokens
 

Painting of a Watchful Warg

24 Fall Festival Tokens
 

Painting of a Watchful Goblin

24 Fall Festival Tokens
 

Cloak of the Falling Leaves

12 Fall Festival Tokens

5

 

Specimen Jar: Gross Bugs

3 Fall Festival Tokens

5

 

Application of 'Coveritol'

3 Fall Festival Tokens

5

 

Bucket of Fear

3 Fall Festival Tokens

5

 

Potent Bird Seed

3 Fall Festival Tokens

5

 

Candle and Mirror

3 Fall Festival Tokens

5

 

Black Silk Glove

3 Fall Festival Tokens

5

 

Spider Leg

3 Fall Festival Tokens
 

Haunted Tree

12 Fall Festival Tokens
 

Boar-head Festival Mask

12 Fall Festival Tokens
 

Raven Festival Mask

12 Fall Festival Tokens
 

Cloak of the Boar

12 Fall Festival Tokens
 

Cloak of the Raven

12 Fall Festival Tokens
Games Masters
Barterer: Bess Forester (Festival Grounds in Bree-land)
Item to Receive
Items to Trade
Fall Festival Token
 

Small Pumpkin

2 Fall Festival Tokens
 

Medium Pumpkin

3 Fall Festival Tokens
 

Large Pumpkin

 

Beaver Festival Mask

 

Man Mask Token

12 Fall Festival Tokens
Barterer: Dýri (Thorin's Hall Inn in Ered Luin)
Item to Receive
Items to Trade
Fall Festival Token
 

Cracked Geode

2 Fall Festival Tokens
 

Pristine Geode

3 Fall Festival Tokens
 

Faultless Geode

 

Bucket Festival Mask

 

Dwarf Mask Token

12 Fall Festival Tokens
Barterer: Malenfas (Duillond in Ered Luin)
Item to Receive
Items to Trade
Fall Festival Token
 

Unimpressive Scroll

2 Fall Festival Tokens
 

Well-written Scroll

3 Fall Festival Tokens
 

Elegant Scroll

 

Rabbit Festival Mask

 

Elf Mask Token

12 Fall Festival Tokens
Barterer: Sawlo Puddifoot (The Party Tree in The Shire)
Item to Receive
Items to Trade
Fall Festival Token
 

Small Apple

2 Fall Festival Tokens
 

Medium Apple

3 Fall Festival Tokens
 

Large Apple

 

Pumpkin Festival Mask

 

Hobbit Mask Token

12 Fall Festival Tokens