Writhendowns
From Lotro-Wiki.com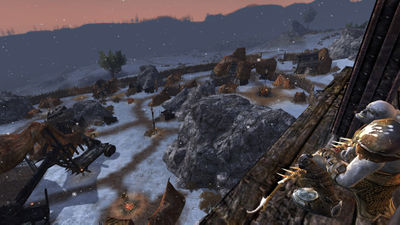 Writhendowns has access from The Wold.
All word from Wildermore has ceased and rumors point to the worst. You must find and aid the town of Scylfig, which suffers from a strangely deepening winter and an Uruk-hai threat.
Geography: Named for the short, twisted trees that grow there, this land's scouring winds have taken a toll on its arable soil.
Settlements
Locations
Deeds
Various Deeds can be advanced by visiting this area.
Wildermore Deeds
The following deeds are located under the Wildermore tab of the Rhovanion page of the Deed Log.
Overview
Wildermore is technically part of East Rohan, under the control of Thane Harding, Aldor of the Eastemnet in Harwick. However Turbine is calling it a Region with sub Areas in their release structure.
Mobs
NPCs
Quests