Western Malenhad
From Lotro-Wiki.com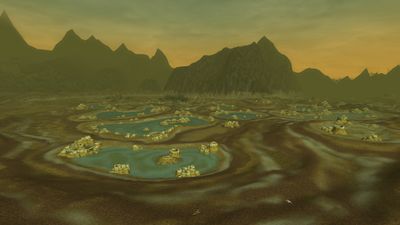 Western Malenhad is an area within Angmar in the southern region.
This is the western section of Malenhad, an area which consists of mostly desert-like marshlands. Here mainly bog-lurkers, flies, giant turtles, and fiery worms are found. In a cave under the foot of the mountains in the north, gertheryg have settled down. Goblins have built some kind of structures to extract something out of the sulphurous ponds in the north-western bogs, but are also found in the enemy holdings in the north and south-west, together with Angmarim.
Between Western and Eastern Malenhad is Rammas Deluon, a border of malicious Watching-stones. Unless having conquered a spirit commanding such a stone, the border is fatal and impossible to pass through. Hence, any member of the Free Peoples is advised to seek out Corunir in Aughaire, before trying to head east.
In the south a band of hunters have set up camp in Tyrn Lhuig. There are provided basic services such as a Healer, a Provisioner, a Tasks Bulletin Board and a Camp Site Fire.
Settlements
The following settlements are found within this region:
Landmarks
These landmarks are located within Western Malenhad:
Quest Instance
NPCs
See list of all NPCs within Western Malenhad

Quests
See "starting quests" and the landmarks for more quests
Involving:
Mobs
The following creatures are found within this area:
Maps