Vindurhal
From Lotro-Wiki.com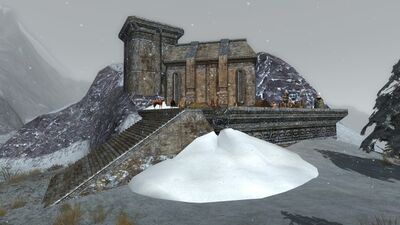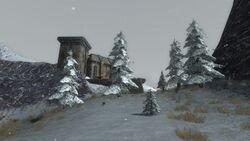 Location
Vindurhal is a settlement located within the area of Northern High Pass in the The Misty Mountains. [23.3S, 4.3E]
Just east of Cirith Daur, at the trail from Bruinen Source East, north-west of Hrimbarg sits a remote and wind-beaten camp called Vindurhal. Here, scouts are tasked with keeping watch on the nearby goblin-camps, and visitors may sell the trophies they gather while adventuring into Goblin-town, located to the north-east.
For travellers passing by to reach Goblin-town, there are two options:

Ride straight east and around Ghâshru keeping the goblin camp to the left until the path straight north is clear, and head for the Camp Site Fire of the Mountain's Throat, which is the "main gate".

Just west of this location, a winding path quite safely runs straight to the Black Crack, high above the goblin camps. It continues on and on, but eventually reaches the "secret passage".
Travelling
Quests
Starting
Involving
NPCs
Supplies & Services
Others
External References