User talk:Ravanel
From Lotro-Wiki.com
Welcome to LotRO-Wiki!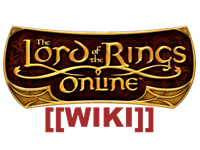 Hello, Ravanel, and welcome to LotRO-Wiki, the Lord of the Rings Online Wiki!
Thank you for your contributions, and we heartily encourage you to continue contributing!
Some useful pointers:
We hope you enjoy editing here!
Take a moment to create a User page for yourself (click on "User Page" at the top left of this page).
Just a couple of lines to tell us about yourself and your interests. It's a good way to practice editing!

Please remember to sign your name on talk pages using four tildes (~~~~) as this will automatically produce your name and the date.

We look forward to having you here. Sounds like you'll make a great addition to the team. Don't worry too much about messing things up. We have the ability to revert your changes. Jump in and see where it leads you. There's always the Help section. I've been attempting to freshen that section up and make it more complete and beginner friendly. If you have any questions don't be afraid to ask. Check out the Community page and Contributors' Corner. --Rogue 16:56, 19 November 2009 (UTC)
>> Archive 2010 - Archive 2011 - Archive 2012 - Archive 2013 - Archive 2014 - Archive 2015 - Archive 2016 <<
Roving Threats
You are correct my mistake;
Rolled back an edit of you today - but maybe I was a bit too quick. Are you sure Shakatrog can *only* spawn in Malenhad? In my memory, he can spawn in multiple areas in Angmar (see: Roving_Threats#Angmar), but I don't know all the individual possible spawn points by heart. --Ravanel (talk) 21:42, 27 July 2017 (UTC)
—The preceding unsigned comment was added by Sucamarto (Contribs • Message • Email) at 28 July 2017, 03:42.
Scaling Items
Please see discussion on the Talk Page of the Boilerplate: Item help page: Talk:Boilerplate:Item#Scaling_Items_revisited
Wm Magill - Valamar - OTG/OTC - talk 16:50, 23 August 2017 (UTC)
Mordor deeds
Greetings Ravanel,
Thanks for the note and the encouragement! I'm glad someone noticed my efforts to diminish the red links in the Mordor deed pages. I admit, I've been copying the deed source code, and I've copied the (Deed) and (Title) tags from whatever template I first used. Thanks for the heads up on that.
Are you going through and making the new deed and title pages without the extra tag? I mostly don't want to duplicate work. I will go ahead and fix any red links I see to deeds I know exist. I made quite a few redirect pages too, those also might need to have the (Deed) or (Title) tag removed.
Thanks again, Dolenaglar (talk) 02:07, 28 September 2017 (UTC)
Hi Dolenaglar! The easiest way to fix the deed page names is to rename the existing articles rather than create whole new pages. (Don't worry about the automatically generated redirect pages, I can always delete them when they've served their purpose.) And then of course all the links on those deed and title pages that link to pages with (Deed) or (Title) need to be changed.
I could do that, if you want. But since deeds are more your project than mine (I was just passing by and noticing the odd names), you can do it, too! It's up to you. Just let me know what you want to work on and if/how I can help. Also, you can always ask me if you need to figure out how to do something. --Ravanel (talk) 08:41, 28 September 2017 (UTC)
Thanks for the promotion! Is there somewhere I can find out what being a Ninja entails? Dolenaglar (talk) 04:28, 13 October 2017 (UTC)
Thank you for fixing the deeds. I had already gone through and fixed what I could find. I'm glad you were able to find what I missed. Now I'm trying to advance my toon on Crickhollow to complete all the deeds so I have the data to finish the Agarnaith Deeds page. —The preceding unsigned comment was added by Dolenaglar (Contribs • Message • Email) at 20 October 2017.