User:Magill/Sandbox-U21-High Elf
From Lotro-Wiki.com
"But the Mirror shows many things, and not all of them may come to pass." - Galadriel
Beta Material
This article contains information which is not yet in-game, but is available on the Bullroarer test server.
Update 21 High Elf
Prototype High Elf Page
High Elf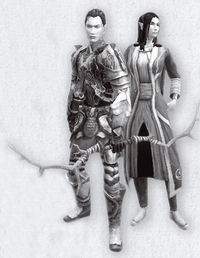 High Elves, who have beheld the beauty of Valinor, possess grace and strength beyond even their woodland kin. Those few who remain yearn to see that Middle-earth is safe to bequeath to Men before they depart for the Undying Lands.
Playable Classes: Captain. Champion, Guardian, Hunter, Lore-master, Minstrel, Rune-keeper, Warden