Udûn
From Lotro-Wiki.com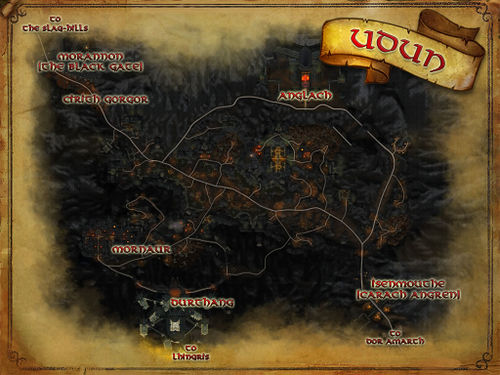 Location
Udûn is a depressed valley in the Plateau of Gorgoroth located in northwestern Mordor.

It lies between Cirith Gorgor, the Morannon and Carach Angren (also called "the Isenmouthe in Westron).
The area holds the great forges, quarries, and parade grounds of Mordor and was traversed by the large armies of Sauron in times of war.
Following Sauron's demise, the various forges, foundries weapon halls and smelteries constructed in the valley of Udûn have been left in shambles, with acid pools and waste left free to pour out onto the landscape. Foul orc villages and encampments clutter along the roads, as they prepared for the Host of the West. Slaves that survived the initial quakes and blast of One Ring's destruction still work away, not knowing the liberation that awaits them. Yet, many ancient curses and hidden evils still lie within the tall strongholds of Durthang and Anglach, waiting to pour out onto careless explorers seeking to pillage the once mighty war-machine.[1]
↑ An Adventurer's Guide to Mordor; OMG_Peanuts; https://www.lotro.com/forums/showthread.php?656588-An-Adventurer-s-Guide-to-Mordor
Settlements
The following settlements are found within this area:
Landmarks
These landmarks are located within Udûn:
Quests
Udûn Foothold
The Slaves of Udûn - Quest Arc
General and Landscape Quests
Gearworks Quest Arc
Mornaur
Durthang
The Search of Captain Lachír - Anglach - Quest Arc
Previous: Volume IV, Book 9
The Black Book of Mordor: Where the Shadows Lie
Volume 1, Book 1:
Volume 1, Book 2:
Chapter 2.1 is class-dependent.
Volume 1, Book 3:
Volume 1, Book 4:
Next: ???
Deeds
Creatures
Maps
Lore