Tham Ornen
From Lotro-Wiki.com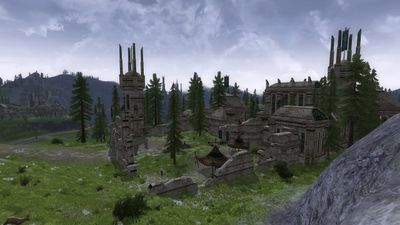 Location
Tham Ornen is a landmark within Parth Aduial in Evendim. [8.7S, 66.7W]
High above Lake Evendim this estate once enjoyed a gorgeous view over the twilights of the lake. Not far from Ost Forod the family suffered no shortage, and the nearby hills and forests provided plenty of wildlife. Nowadays Angmarim and other hosts of the Enemy have set up camp within the broken walls.
Deeds
The following deeds can be obtained by visiting this location:
Quests
Starting
Involving
Mobs
The following creatures are found within this area:
The targets do not change their positions and are situated far enough from one another to slip between them without engaging them. Ideal place to start the slayer deed at lower levels.
This is also a great place to gain reputation with the Wardens, as the drop rate of

 Band of Númenór is high (compared to Annúminas, Tham Ornen gives much more reputation drops for much less effort).
Lore
The smallest of the great houses of Arnor built their estate here at Tham Ornen. While they could not claim the wealth or power of the other houses, it is said that this family had close ties with the Royal line of the Kings of Annúminas. As such they suffered few of the more difficult turns of fate that befell many of the other houses, and were highly respected throughout their long history.
Nevertheless, their fate became inextricably twined with that of the royal line so as the power of Arnor fragmented and faded, so too did the family at Tham Ornen fade into the pages of history. — Deed text