Southern Emyn Uial
From Lotro-Wiki.com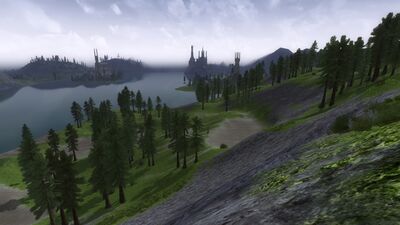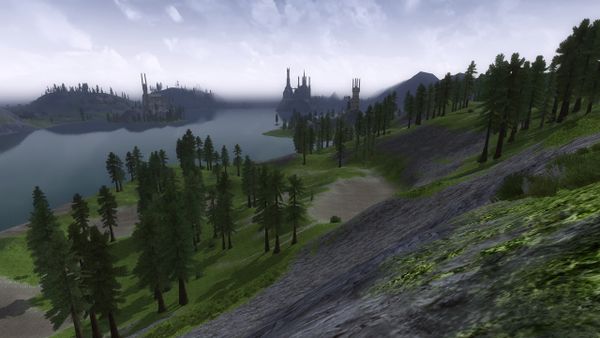 Southern Emyn Uial is an area within Evendim in the western region.
West of Lake Evendim this is an uneven, wooded area that climbs the mountainsides. Swift streams throw themselves down beautiful waterfalls, gather in serene ponds, and finally discharge into the Lake Evendim. In valleys, narrow passages, and at plateaus and hilltops Gauredain, giants, and trolls dwell, and in the woods bears, wolves, and other wild animals are prowling. At the west-most bay of the big lake lies Rushingdale, and under its wondrous waterfall is Gwindethrond located, the well hidden dwelling of one of the oldest living beings of Middle-earth, Gwindeth.
This area provides a various scenery, wildlife, as well as MOBs. Adventurers should be cautious because of the stealth creatures. The closest camp is the Eavespires to the north, and Echad Garthadir in Annúminas; they provide a boat-keeper and a stable-master respectively. Quests are aimed at level 37-38 and some are meant for Fellowships.
Landmarks
These landmarks are located within Southern Emyn Uial:
Interiors
NPCs
See list of all NPCs within Southern Emyn Uial
Quests
See "starting quests" and the landmarks for more quests

Starting
Involving
Mobs
The following creatures are found within these borders:
Maps