Oatbarton
From Lotro-Wiki.com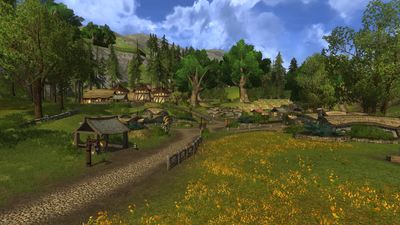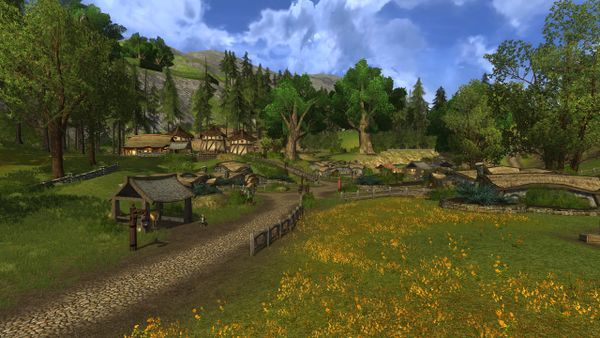 Location
Oatbarton is a settlement located within the area of Bullroarer's Sward in Evendim. [23.1S, 67.3W]
At one end of the Northway is this lovely village of hobbit oat farmers, the other end at Budgeford. However, these days they also grow much other crops and much of the gossip is about the annual market and who is gonna win the prize for best pipe-weed and many other contests. But this year, so many unsettling things have happened and the citizens have less time for preparations.
Oatbarton provides decent services and crafting facilities; it is also renowned for the only farmlands of Evendim. People come from far and wide to give a helping hand in the preparations of the friendly Northcotton Market, while others come to help investigating what is going on at the rougher Northcotton Farm dungeon. Many curious visitors are also looking for the Mysterious Relic of Famine.
Landmarks
Services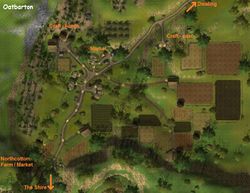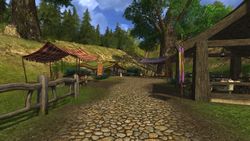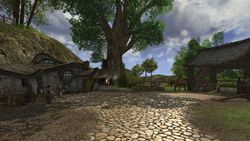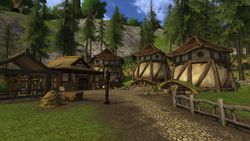 Mailboxes
Crafting
The crafting area is split over two locations and farmlands are in the outskirts of the village:
Travelling
Quests
See Northcotton Market and Northcotton Farm for many more quests in this neighbourhood.
Starting
Involving
NPCs
Supplies & Services
Equipment
Armour and Weapons are for levels 24 to 32
Crafting
NPC
Function
Coords
Forging Crafting Area
Bungo Whitfoot
Master of Crafting Guilds
[22.8S, 67.5W]
Cotman Gamgee
Novice Metalsmith
[22.9S, 67.6W]
May Gardner
Novice Tailor
[22.9S, 67.6W]
Hending Greenhand
Novice Weaponcrafter
[22.9S, 67.6W]
Gundabald Gardner
Novice Woodworker
[22.8S, 67.6W]
Eastern Crafting Area
Balwin Puddifoot
Master of Apprentices
[22.9S, 66.6W]
Wilibald Goodchild
Novice Cook
[22.9S, 66.6W]
Hobson Cotton
Novice Farmhand
[22.8S, 66.5W]
Ida Mabbitt
Novice Jeweller
[22.8S, 66.5W]
Amaranth Gamgee
Novice Scholar
[22.8S, 66.5W]
Others
| NPC | Function | Coords |
| --- | --- | --- |
| Ponto Oats | Task-master - Quest - Burglar | [23.3S, 67.3W] |
| Harigar Mudbottom | Inn League Member - Festivals | [23.0S, 67.3W] |
| Bungo Grubb | Quest | [23.6S, 66.7W] |
| Fenric Banks | Quest | [23.3S, 67.2W] |
| Hal Gamgee | Quest | [23.0S, 67.2W] |
| Nibs Chubb | Quest | [23.2S, 66.5W] |
| Nod Gardener | Quest | [23.1S, 67.3W] |
| Adaric Burrows | | [23.6S, 66.8W] |
| Balbo Brockhouse | | [23.0S, 67.2W] |
| Bob Proudfoot | | [23.2S, 67.4W] |
| Opaline Grubb | | [23.6S, 66.7W] |
| Rosalyn Smallburrow | | [23.6S, 66.7W] |
| Bounder | Free Peoples | |
| Bounder | | |
| Farmer | | |
| Gardener | | |
| Gossip | | |
| Labourer | | |
| Patron | | |
| Townsperson | | |
| Woodcutter | | |
Mobs
The following creatures are found within this area:
Lore
"A village or township in the Northfarthing of the Shire. Though very little detail is known about this place, we do know that parts of the Northfarthing were given over to farmland. The name 'Oatbarton', which means essentially 'oat farm', suggests that this settlement lay within the farthing's farmland regions." — lorebook
External References