Nan Gurth
From Lotro-Wiki.com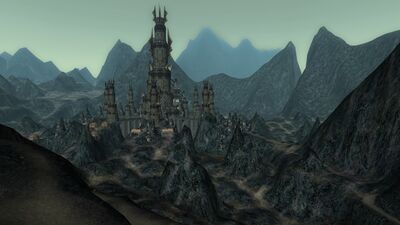 Nan Gurth is an area in the northeast of Angmar. [5.5N, 22.4W] It is a barren land, containing a base of the servants of the Witch-king.
Barad Gúlaran is located in the centre of a series of bridges that surround it like the spokes of a waggon-wheel.
Location
In the middle of this barren land are eight small towers: (Minas Agar, Minas Angos, Minas Caul, Minas Deloth, Minas Dhem, Minas Maur, Minas Nir and Minas Gularan). In these outposts, the servants of the Iron Crown and emissaries of tribes (such as Karstíona) stay. In each tower there is a bridge to the great tower called Barad Gúlaran. Most of the servants of the witch king take residence here. Amarthiel, Champion of Angmar, is one of them.
Nan Gurth is generally known as a very dangerous area to solo due to the numerous Elite Master monsters roaming around the tower of Barad Gúlaran. It is also the only way to the Rift of Nûrz Ghâshu, so care must be taken not to aggro any mobs when you have a level 50-58 player with you.
Mobs
Gallery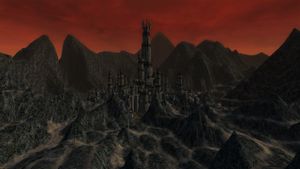 "I like this land. It reminds me of the twilit wilds, far away in the North, where my heart remains." - Calenglad
Location Stub
This article or section is marked for missing location information.
Please visit Create new location and help expand knowledge about this wondrous place.