Mithrenost
From Lotro-Wiki.com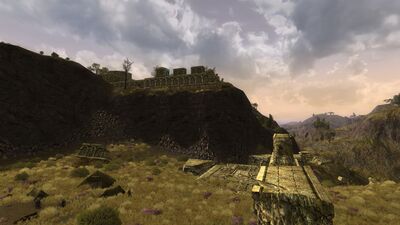 Location
Mithrenost is a landmark within Nain Enidh in the Lone-lands. [34.7S, 34.4W]
Just east of the Lornspan in the southern ridges of Nain Enidh lies this once so proud fortress. Its name is Sindarin for "Grey City" and that maybe foretold its recent state, overtaken and defiled by Dourhands. Today Mithrenost is a main stronghold for the Dourhands with several rooms and levels, challenging for the lonely warrior. Closer to the Overseer there are several items that plants Dread on the adventurer.
In a room to the south-east there is a door that leads into the Iorvinas dungeon, at the dwarf side of the dungeon. [34.4S, 34.1W]
Deeds
The following deeds can be obtained by visiting this location:
Quests
Involving:
Mobs
The following creatures are found within this area:
Lore
Mithrenost was once one of the strongest fortresses of the North Kingdom in days past. Now it is naught but a hiding hole for dwarf-brigands in the service of Skorgrím Dourhand.
Map