Metalsmith
From Lotro-Wiki.com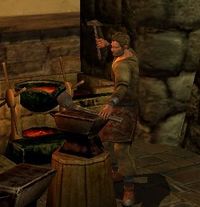 "Metal armors and sturdy shields are the metalsmith's domain. Though their initial products may be of simple make, eventually their skills will allow them to work finer materials and greater designs."
As a metalworker, you can craft shields, heavy armour, and high-quality tools. While tools will require additional materials, most armour can be made from a sufficiently large quantity of metal ingots. Associated Vocations: Armourer
Required Tools
Materials
A list of all component items that are used to craft Metalsmith recipes: Metalsmith Components
Metalsmiths requires Metal Ingots produced by the Prospector. The Armourer Vocation includes both professions.
Recipes
A complete list of recipe indexes by tier
A complete list of recipes listed alphabetically
An index of items that can be crafted using Metalsmith recipes
Crafting Guild
Crafting Guilds are Reputation factions that grant advantages in recipe execution. Reputation is increased by bartering special crafted items. Membership in a Crafting Guild is exclusive - you may only be a member of one crafting guild at a time.
Metalsmiths of any character level, and at least Expert level in Metalsmithing, are eligible to join the Metalsmith's Guild. To join a crafting guild one must speak to a Master of Crafting Guilds, and they are always found in the vicinity of a guild hall and at many other locations. Then, the metalsmith must speak with the Metalsmith's Guild leader, Hávar, at the Metalsmith's Guild headquarters in Thorin's Hall - The Forging Hall, to receive the introductory quest.
Quests
Class Quests
Using your Skills
Reputation
Metalsmith NPCs
Novice Metalsmiths
Expert Metalsmiths
Further Reading