Land
From Lotro-Wiki.com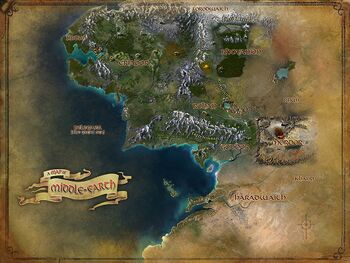 Middle-earth is divided into different lands. Lands are further divided into regions; and regions into Areas.
Other lands of Middle-earth are planned for upcomming expansions, including Mordor (in the summer of 2017).
Mordor is accessable East of the Anduin, but West of the Mountains of Shadow - North Ithilien, as of Update 19, September 2016.
South Ithilien became accessable in Update 17 in May of 2015.
Political Geography refers to all borders and regions.
For natural geography check out Physical Geography.
For man-made structures check out Humanoid Geography.
LOTRO-Wiki is organized by