Item:Tome of Tracking
From Lotro-Wiki.com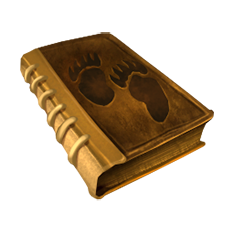 Tome of Tracking
Consumed On Use
Cooldown: 30s

 

Not useable in Monster Play

 

"This tome can be used to track the following within an area: Beasts, Insects, Dragon-kind, Orc-kind, Giants, Unseen, Dead, Ancient Evil, Dwarf, and Humans. Stealthy creatures can also be tracked by using this item."

 
Item Information
This item functions similarly to the Hunter tracking skills Passage of Nature, Passage of Foes and Passage of Shadow.
It can be purchased in stacks of 10 or 25 in the LOTRO Store, and can be used by all classes at all levels. This item is also found in

 Eorlingas Iron-bound Lootboxes.
Quest Reward
This item is a quest reward from the following quest:
Drop Information