High Elf
From Lotro-Wiki.com
High Elf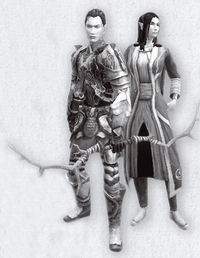 High Elves, who have beheld the beauty of Valinor, possess grace and strength beyond even their woodland kin. Those few who remain yearn to see that Middle-earth is safe to bequeath to Men before they depart for the Undying Lands.
Playable Classes: Captain, Champion, Guardian, Hunter, Lore-master, Minstrel, Rune-keeper, Warden
The High Elf race was added in 2017 with Update 21 - the Mordor Expansion.
High Elf Names
With rare exception, the Elves of Middle-earth have Sindarin names.
Names like Arwen, Celebrain, and Galadriel are examples of Elf-women in Middle-earth.
Common Feminine name Endings: -anor, -dal, -dis, -el, -eth, -iel, -il, -gil, -los, -raen, -reth, -riel, -rian, -rien, -uilas, -uilos, -wen, -wing
Common Female Prefixes: Adan-, And-, Ar-, Bel-, Breg-, Celeb-, Dol-, Edhel-, El-, Fan-, Find-, Galadh-, Gil-, Hir-, Ior-, Ir-, Lal-, Mel-, Mor-, Nim-, Rod-, Sael-, Tinu-
Names like Elrond, Legolas and Lindir are examples of elf-men in Middle-earth.
Common Masculine name Endings in Sindarin are: -adan, -aran, -bor, -born, -dir, -dor, -had, -ion, -las, -moth, -or, -phant, -phor, -randir, -ras, -rod, -rond, -ros, -thalion, -thir, -uil, and -we
Common Prefixes are: Adan-, Aeg-, Am-, Aran-, Bara-, Beleg-, Celeb-, Curu-, Dag-, El-, Fela-, Fin-, Gal-, Gil-, Hal-, Ing-, Lin-, Mal-, Pen-, Tar-, Thurin-, Ul-
In Elder Days, you dwelt in the fair Elf-lands of Beleriand, now broken and lost forever beneath the Sea.
Driven from your home by Death and war, you came to the hidden vale of Imladris, where you have long dwelt under Elrond's protection.
You spent your younger days in the cavern-fortress of Nargothrond, the hall of Finrod Felagund, whose beauty was lost in the wars of old.
The memory of the white towers of Gondolin, hidden city of the High Elves, still burns within you, though it fell to treachery long ago.
Your home of Ossiriand survived the fall of Beleriand to be come Gil-galad's realm of Lindon, now grown empty as the Elves depart for Valinor.
High Elves in the Lore of LOTRO

Lady Galadriel is co-ruler of Lothlórien, together with her husband, Lord Celeborn.