Helm's Deep
From Lotro-Wiki.com
Helm's Deep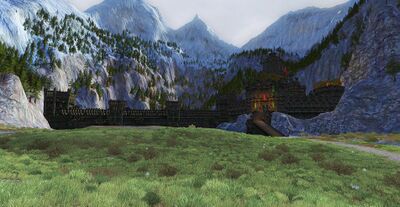 Location
Helm's Deep is a settlement located within the area of Westfold in West Rohan. [, ]
Helm's Deep was a large valley in the north-western Ered Nimrais (White Mountains) below the Thrihyrne.
Lore
During the War of the Ring the fortress guarding Helm's Deep again became the refuge of some of the Rohirrim, now under King Théoden, and the Battle of the Hornburg was fought there. [1]
Services
The following services can be found within the settlement of Helm's Deep:
Mailboxes
Crafting
Travelling
Deeds
The following deeds can be advanced by visiting this place:
Quests
Note
In update 12.2 many of the class trainers had their skins changed.
Game technology
"Turbine said that while Peter Jackson's vision of Helm's Deep made a serious impact on how fans saw the battle, "LotRO is the game of the books" and as such is striving to provide a more accurate representation of the conflict. So while there will be no Elves showing up or Gandalf charging in to save the day, we will experience many events of the books that didn't make it to film, such as clashes at the dike and the glittering caves.
"The outcome of the "Big Battle" of Helm's Deep is fixed in lore and won't be impacted by the player, but each player can make a difference in how they contribute to that victory through their efforts.
"Part of a player's contribution will depend on how his group coordinates (if he is in one) and what role he decides to pursue. There are three roles in the defense of Helm's Deep: vanguard, engineer, and officer. Vanguards are focused on wading into the battle and doing some personal damage, engineers fire siege weapons and interact with environmental objects, and officers give orders. Seems there's a little something there for all interests." [2]
References
↑ The determined defense of Lord of the Rings Online: Helm's Deep - A press preview.