Gorgoroth
From Lotro-Wiki.com
"But the Mirror shows many things, and not all of them may come to pass." - Galadriel
Beta Material
This article contains information which is not yet in-game, but is available on the Bullroarer test server.
Connected to
Morgul Vale - Not yet in-game as of Update 21
Nurn - Not yet in-game as of Update 21
Lore
Areas
There are five areas in the Gorgoroth Region:
Reputation Factions
---
Quest Chains
The Epic Quest line continues throughout East Rohan (Free. Does not reequire purchase of the Mordor Expansion.)

Additionally, a new quest line is introduced: The Black Book of Mordor (Requires purchase of the Mordor Expansion.)

Volume V, Book 1: Where the Shadows Lie


Volume 1, Book 1:



Category:Gorgoroth Task Quests
Deeds
The following deeds are located under the Gorgoroth tab of the Mordor page of the Deed Log.
Plateau of Gorgoroth Deeds Overview
Udûn
Dor Amarth
Lhingris
Talath Urui
Agarnath
Resource Instances
Titles
Gorgoroth Titles <- transcludes the Region Title List
NPCs
Map(s)
Mouseover for details. Area and instance maps available thru the Areas above and thru Category: Regional Maps.
Maps

Udûn: between Cirith Gorgor and Carach Angren (also called "the Isenmouthe in Westron)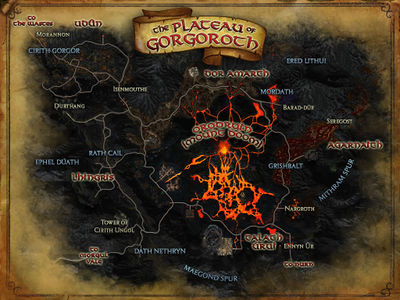 The five areas of Gorgoroth
Category Overview