Goblin-town Throne Room
From Lotro-Wiki.com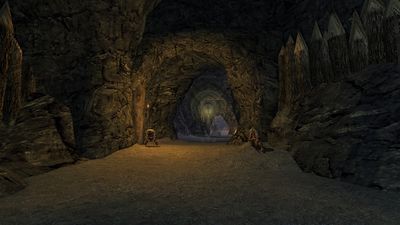 Location
Goblin-town Throne Room is part of the Goblin-town in The Misty Mountains. [21.8S, 6.2E].
This locations is the last room of Goblin-town, entered through a passage from Eglanúr.
It is also referred to as The Great Goblin's Den, which is the name of the specific instance it is part of. In this room the Goblin-town VIPs Ashûrz, his warg pet, and Matuga are found. There are also some other mobs not found elsewhere in the Goblin-town, like Goblin-town Soldiers.
Directions from Mountain's Throat:
First follow directions to Zagh.
From bottom of second stairs, head north through room and bear left. This will take you to Throne Room entrance.
Deeds
The following deeds can be obtained by visiting this location:
Quests
Involving:
Mobs
The following creatures are found within this area:
Lore
"In the darkest depths of Goblin-town, at the heart of the goblin kingdom, teeming with the vile breed, lay the throne room of the Great Goblin. Long have the inhabitants of Goblin-town been leaderless, but as the Shadow in the East grows, calling its minions to arms, a new leader has taken the mantle of the Great Goblin..."
Gallery