Erebrandir's Horseshoe
From Lotro-Wiki.com
Item Information
This entry details the Effect granted by
Erebrandir's Horseshoe (Item Page)
Name
Erebrandir means "Lonely Wanderer".
Effect Information
Confirmed effects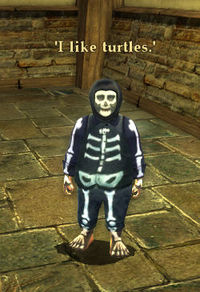 Debunked Theories
These effects have been denied by the developers:
Improve fishing.
Affect loot from chests.
Increase the crit chance for Relic combining.
Unsupported theories
It has been suggested, but never confirmed, that equipping the Horseshoe might:
Improve your chance of looting shards when Prospecting and Foresting.
Improve your chance of getting on stage in the theater at Frostbluff.
Improve your chance in the Treasure Hunt event.

One of the dwarves in the Treasure Hunt suggests to take something lucky into the fields, saying that "one should always carry a lucky item in their pocket, like a horse shoe."
When equipped in the Treasure Field the Horseshoe provides a buff.
When asked if it has any effect in the Treasure Hunt, Sapience replied "It certainly doesn't hurt. :)."[4]
References