Dor Amarth
From Lotro-Wiki.com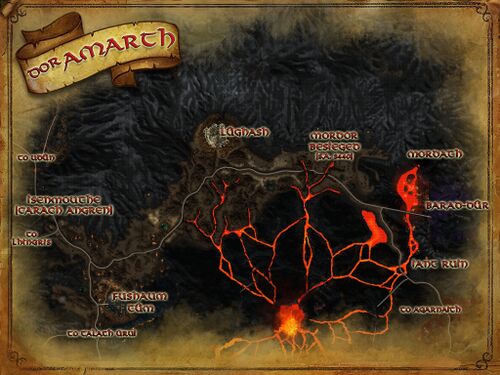 Location
The eruption of Mt Doom has led to the break in the plateau of Gorgoroth. What was once a vast battlefield and mustering plain under Sauron's control, has now become a dangerous field of volcanic jets, crevasses, quake-lines and sinkholes. Loyal orcs and men still stand guard over the ruins of Barad-dûr, hoping that the Dark Lord will eventually come and return in glory and lead them once more. Many Easterlings and Haradrim also stay to pillage the spoils of these lands as payment for the rewards promised by Sauron.
Ered Lithui (Sindarin) - The Ash Mountains separate Mordor from Rhûn, this mountain range forms the northern border of Mordor.

Meeting with the Ephel Dúath in the north-west corner of Mordor it forms one side of the pass of Cirith Gorgor leading into the enclosed plain of Udûn.
A spur forms one side of the pass of Carach Angren (also called "the Isenmouthe") which encircles the valley of Udûn.
Settlements
The following settlements are found within this area:
Landmarks
These landmarks are located within Udûn:
NPCs
Quests
Ruins of Dingarth
The Treasures of Barad-Dur quest arc

Ingold
Lômazar
The Stout-axes and Fire-Horns quest arc

Legolas
Gimli
Spakorth - Lûghash - Stout-axe Dwarves
Ered Lithui
Watching Stone at [43.6S, 20.2E]
Barad-dûr
Deeds
Creatures
Gorgoroth Wormling
Plateau mole rat