Chicken Play
From Lotro-Wiki.com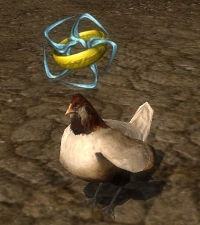 Chicken Play allows you to experience the game from a very different perspective - that of a level 1 chicken; or to be precise, a rooster.
Description
Chicken Play is accessed via a series of quests given by Wald Sandson at Sandson's Farm in the Shire. Each quest (apart from Which Laid First) takes you into Chicken Play, with a generous time limitation. The chicken has an equivalent quest listed as level 1.
Your name will be ~Name, and you can only talk on chicken channels. There are no specific chicken emotes although all the usuals are available as text. A maximum of 50 people can be chickens at any one time. You may not talk to any of the standard NPCs - including stable-masters. Your map is new (mostly blank) on each session. All normally aggressive monsters are aggressive.

Chicken skills
Not all skills are available in every session.
Gallery
External Guide
There was a great article here about this play in the LOTRO Lorebook, which is now transcribed here:
Quests
The Sky is Falling
Completing this quest chain is prerequisite for the Flying the Coop Quests.
---
Prerequisites: completed the quest chain The Sky is Falling
Complete the following quests in no particular order:
Completing the above quests is a prerequisite for these quests:
[6] The Great Wide Open
[6] Free Range
Rewards and Notes
Credits
Credit for the Chicken Session Guide is given to Lorr (aka Nightwind).