Bullroarer's Sward
From Lotro-Wiki.com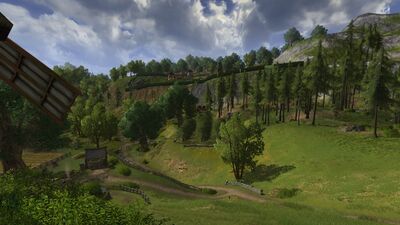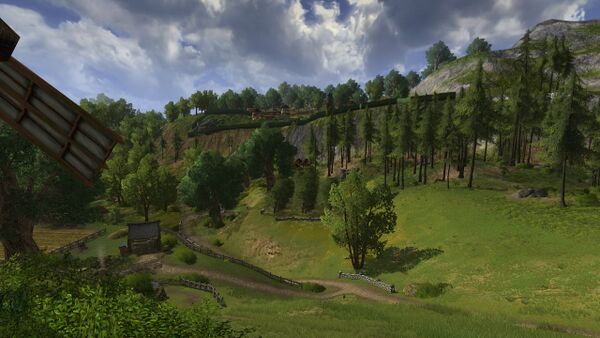 Bullroarer's Sward is an area within Evendim in the southern region.
This area comprises such legendary settlements of the North and Eastfarthing of the Shire as Oatbarton and Dwaling and would be a lovely farming area unless for the recent increase of goblins and the disrupt wildlife that now disquiet the otherwise so friendly hobbits. Now Dwaling is defunct, overrun by brigands and its residents are found in the Glass-blowers' Camp.
Bullroarer's Sward is located in the utmost south of Evendim, west of Brandywine River, and it connects to the Shire so that hobbit characters from about level 30 may continue their favourite way of life. Thus the quests here usually give reputation with the Mathom Society. The Northcotton Market provides many many cute "hobbity" quests that relates to food and drink, farming, and ... more food and drink. The nearby Northcotton Farm (level 65 dungeon) is rougher, though still hobbit styled. Oatbarton is the main village and provides decent services and the only farmlands of Evendim.
Settlements
The following settlements are found:
Landmarks
There are several landmarks located within Bullroarer's Sward:
Dungeons
NPCs
See list of all NPCs within Bullroarer's Sward

Galthoniel
Quests
See "starting quests" and the landmarks for quests
Involving:
Mobs
The following creatures are found within this area:
Maps