Bog-guardian
From Lotro-Wiki.com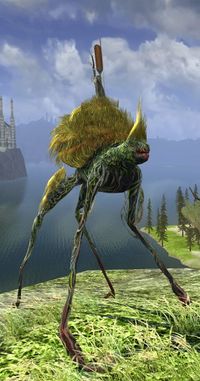 The Bog-guardian becomes available to a Lore-master at level 58. It is a legendary pet that must be obtained by acquiring reputation and equipping a trait after purchase. It is only one level lower than the Lore-master itself.
It has a high survivability due to its high morale and high level. It also deals high auto-attack damage, even though this is common damage. Moreover, it is the only pet that is ranged. The bog-guardian has the ability to deal a damage over time ranged attack. It also has the ability to apply an increased incoming ranged critical chance debuff on a target. This can be useful in a fellowship with a lot of Hunters, although the bear with its Shatter Arms debuff might in some cases be a better choice (more on this topic here). In either case, this debuff is useful for the bog-guardian itself. It also has a skill that has a chance to pull off Fellowship Maneuvers. The bog-guardian is a good pet for difficult solo situations due to its high damage, survivability and flank rate. It can temporarily take the role of tank and keeps the Lore-master's morale and power up with its many flanks. The bog-guardian sounds like the perfect pet, but has as downside that it requires five traits in the blue line to be slotted.
The bog-guardian has the highest flank rate.
Requirements
In order to acquire the Nature-friend Class trait, you must purchase and read The Book of Nature from the Iron Garrison Guards. A minimum level 58 and a reputation status of kindred is required to be able to buy this trait.
Note: The legendary trait Nature-friend must be equipped with a Bard before you can summon your bog-guardian. This legendary trait requires five slotted traits of The Keeper of Animals line.
Bog-guardian Skills

The last three skills on the Bog-guardian's Skill Bar are:
Angry Bees: Unleashes bees that deal damage over time
Root Strike: A powerful root attack that deals damage and increases the ranged critical chance on the target
Bursting Root: Deals damage and has a chance to open a fellowship maneuver
Traits
The trait Hardy Companion enhances the Lore-master's companion by improving its level, morale, power, attack speed, damage, critical chance, block, parry and evade chance, stealth and stealth detection.
The trait Noble Savage enhances the Lore-master's companion by granting it signature status; improving its morale, power, attack speed, damage, critical chance, block, parry and evade chance, stealth and stealth detection, as well as granting it immunity to knockbacks.
Effects
Auto-attacks have a chance to activate Flanked! on an enemy target.
Auto-attacks from the rear have a chance to activate Harried! on an enemy target.
Pet Food
A Bog-guardian can drink Bowls of Water to temporarily increase its ranged offence rating, fire and acid defence rating and maximum power. Bowls of Water are crafted by Cooks.
Ranged Item
A Lore-master can equip a brooch in their ranged slot that grants their pet one of the following:
Up to 365 Critical Rating
Up to 480 In-combat morale regen and 3040 Evade rating
Appearances
A Lore-master has the ability to learn skills that change the appearance of his/her pet by consuming talismans. These talismans are crafted by Jewellers or can be purchased at the LOTRO Store.