Barad Glamgil
From Lotro-Wiki.com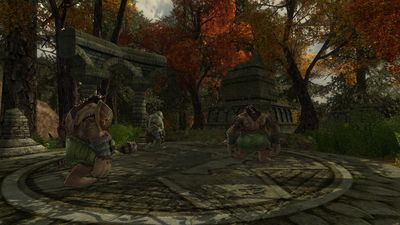 Location
Barad Glamgil is a landmark within Nan Tornaeth in The Trollshaws [28.8S, 14.1W]
A number of ruined towers are located on a couple of high cliffs and are offering a dramatic view over The Glamgil Falls to the east. The ruins are occupied by trolls. To the north-west it is possible to jump the rocks and short-cut to Amon Varadh.
Deeds
The following deeds can be obtained by visiting this location:
Mobs
The following creatures are found within this area:
Lore
Barad Glamgil overlooks the southern approach into Nan Tornaeth, as well as a dramatic waterfall which cascades into deep pools at the base of the hills below the tower.