Balewood
From Lotro-Wiki.com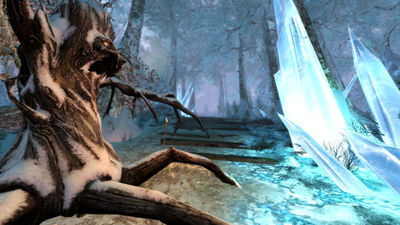 The Balewood is an area in the region of Wildermore. It can be accessed from the Eaves of Fangorn.
In the unruly, northern expanses of Fangorn Forest, the Darkness has taken hold. In the Balewood, violent Huorns and Wood-trolls prowl and Saruman's Uruk-hai linger. You must gather young Ents to rally against the growing corruption.
Geography: Home to some of the most ancient trees in all of Middle-earth, the Balewood is known for its gnarled, knotted old oaks and firs, which provide very little light to the world beneath its canopy.
Locations
Deeds
Various Deeds can be advanced by visiting this area
Wildermore Deeds
The following deeds are located under the Wildermore tab of the Rhovanion page of the Deed Log.
Overview
Wildermore is technically part of East Rohan, under the control of Thane Harding, Aldor of the Eastemnet in Harwick. However Turbine is calling it a Region with sub Areas in their release structure.
Mobs
NPCs
Quests